A large police presence was seen at a Home Depot in Chelsea, Massachusetts, Thursday for what officials said appeared to have been a false alarm, then latter said was apparently a "swatting" incident.
Police were investigating what happened, but Chelsea Police Chief Brian Kyes told NBC10 Boston that no one was hurt, no shooter had been found and there was no evidence of shots fired.
Police haven't specifically said what the report was that drew the officers to the scene, many with guns drawn. Kyes first characterized the call they received as being of "good intent," but later said that someone had "swatted" a dental office at the shopping center, Parkside Plaza.
"Swatting" is the act of making a false 911 call to draw police to another location. While often simply scary and inconveniencing, they can also be deadly, as armed police expecting to find someone who is armed and dangerous enter a home or business.
Kyes told NBC10 Boston that the incident began with a bizarre phone call to a dental clinic. The caller said he wanted paper towels, hand sanitizer, and he was coming to the office armed with a gun.
The dental office evacuated patients and staff, and they ran to Home Depot next door. Word started to spread about a possible active shooter, so people started running and hiding inside Home Depot.
At least 50 officers searched the plaza and the businesses in the plaza, but nothing suspicious was found.
Police are trying to figure out who made the call. All they know is he spoke Spanish and said he'd be showing up to the dental clinic wearing a multi-colored shirt.
Kyes said it was possible other "swatting" incidents may have been called in to police in Fall River and Somerville.
"We are following up w/our partners at the FBI regarding this issue," Kyes said in a tweet.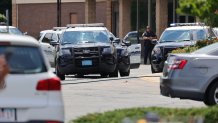 Police had said that officers were checking businesses in the area to ensure everyone was safe, but no one reported seeing a gun or hearing gunshots.