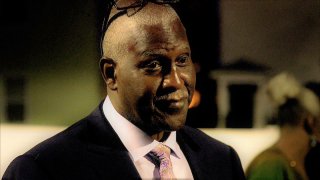 A Massachusetts man who was wrongly convicted of killing a Boston cab driver in 1979 had his conviction vacated earlier this week and is now speaking out.
After 41 years behind bars, James Watson, of Boston, is still getting used to his new life.
"I know I am not dreaming, I hope I am not dreaming, wake up from a deep sleep," Watson said Thursday.
This week, Watson became the second man to have his conviction vacated in connection with killing of Jeffrey Boyajian in the city's Roxbury neighborhood.
"I used to look out the window and say, 'IF I had a second chance.' If was my favorite word," Watson said, wiping tears from his eyes. "I didn't think there was no possibility, even though people were saying, 'we got this.'"
Watson was released from prison in April. His conviction was overturned Nov. 5 and on Tuesday all charges against him were dismissed by the Suffolk County District Attorney's Office, according to Watson's attorneys.
"I knew from the moment I met him that he was innocent," Barbara Munro said Tuesday. "He was a black man with no alibi, any black man would do, at that time."
Local
In-depth news coverage of the Greater Boston Area.
Watson's co-defendant, Frederick Clay, was exonerated in August 2017 after a reinvestigation by prosecutors found that justice might not have been served.
Watson's attorneys said Wednesday that prosecutors allowed him to receive a new trial after concerns were raised about issues like people being misidentified under hypnosis, coercion of witnesses, none of Watson's DNA on items tied to the killing and police and prosecutorial misconduct.
In an interview, Suffolk County District Attorney Rachel Rollins says her office launched an extensive review of all of Watson's evidence.
"We took a very long time and looked at the evidence," Rollins said. "We have to admit when we make mistakes, and move forward."
So, earlier this week, the news that Watson spent years dreaming might come, word came that the district attorney would not seek a new trial.
"It is never an easy decision because the family of Jeffrey, is still mourning his loss over 40 years later and so we made sure followed the evidence that was presented to us," Rollins said. "Ultimately we came to the conclusion that this was the just and equitable and fair thing to do."
For Watson, it;s hard to process all that he has missed. His son was 15 months old when he went to prison and is now 41.
"It was hard to see my other friends with their dad and I couldn't see mine," Don Juan Moses, Watson's son, said Thursday. "Surreal, I feel like I am in heaven, it is priceless."
Watson says he is still getting used to his new-found freedom.
"A weight? I felt like it was the titanic on my shoulders and I just couldn't believe it is something I dreamed about for 40 years," he said. "There is no more ifs, no more ifs."