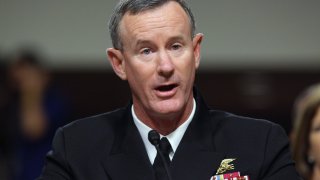 Retired Navy Adm. William McRaven has been chosen to give the 2020 commencement speech at the Massachusetts Institute of Technology.
The school announced the selection Friday. In a statement, MIT President L. Rafael Reif praised McRaven for his ``integrity, intellectual curiosity, decency, humility and self-discipline.''
McRaven was head of U.S. Special Operations Command in 2011 when Navy SEALs killed al-Qaida leader Osama bin Laden. He also led the 2009 rescue of Richard Phillips, a ship captain who was captured by Somali pirates.
McRaven retired from the Navy in 2014 and served as chancellor of the University of Texas system from 2015 through 2018.
Copyright AP - Associated Press