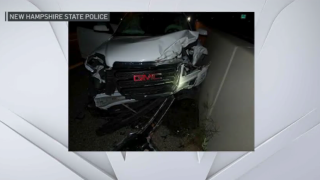 A New Hampshire woman was killed in a single-car highway crash in Bedford, New Hampshire overnight.
According to New Hampshire State Police, 36-year-old Brianna Sullivan, of Nashua, NH, was driving northbound on I-293 in Bedford around 12:30a.m. on Saturday when she struck the right side guardrail and then veered to the left and struck the concrete jersey barrier.
Sullivan was taken to a nearby hospital where she was pronounced dead.
Police say the passenger in the car -- identified as 36-year-old Julio Lopez, of Litchfield, NH -- was taken to the same hospital with non-life threatening injuries.
The cause of the crash remains under investigation, but according to police, initial findings suggest alcohol and distracted driving were likely factors.