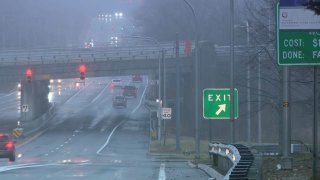 A Massachusetts man was allegedly driving impaired early Saturday morning when he crashed his vehicle head-on against a barrier as he tried to enter the access portion of Route 146 in Lincoln, Rhode Island, killing one of his two passengers.
Rhode Island State Police say Christopher Vincent, 25, of Watertown, Mass., was charged with driving under the influence of liquor or drugs with death resulting, and driving under the influence of liquor or drugs causing serious bodily injury, driving to endanger with death resulting, and driving to endanger resulting in personal injury.
The charges follow the fatal crash that occurred around 2:34 a.m. on Route 146 northbound, north of Route 116 in Lincoln.
According to state police, Vincent was driving with two other men when he slammed into the highway impact attenuator. The front-seat passenger, identified as 22-year-old William Molloy, of Ashland, Mass., died from his injuries.
Vincent and a passenger in the backseat were both taken to Rhode Island Hospital with serious injuries, police said.
Further information was not provided. An investigation into the crash is ongoing.