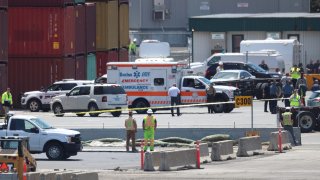 A person was hit by a truck and killed at Boston's container ship terminal Wednesday, officials said.
The victim, a 41-year-old Billerica man, was struck by the truck at Conley Container Terminal in the Boston Seaport about 11:40 a.m., according to the Massachusetts State Police. Police initially said they worked at the facility, but Massport later clarified that the victim was a truck driver, not an employee of the terminal.
A 72-year-old Revere man was driving the truck whose trailer hit the victim, state police said. The cause of the crash is being investigated.
The Terminal was closing for the rest of Wednesday, according to Massport.
"The safety and security of those that use our facilities is our top priority. The unfortunate accident this morning involved the death of a truck driver accessing Conley on behalf of a private trucking company," Massport said in a statement. "An investigation into the accident is currently underway."