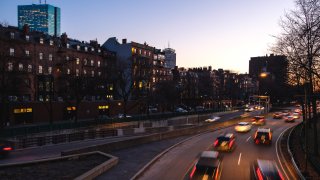 Boston police detectives arrested a 20-year-old West Roxbury man on Friday in connection to a February road rage incident that resulted in shots fired at the victims' vehicle.
Nyshiem Shaw was arrested by warrant in Brighton for two counts of assault with a dangerous weapon, carrying a loaded firearm without a license, discharging a firearm within 500 feet of a building, malicious destruction of property, and carrying a firearm without a license, Boston police said.
Officers allege Shaw followed a car in a fit of road rage on Feb. 13, firing at the victims' vehicle. Police were called to the area of 40 Chittick Road in Hyde Park for a call of shots fired where the victims reported to police that they had been followed by a vehicle after a road rage incident.
The victims told officers that they saw a gun and then heard loud pops. Responding officers found ballistic damage tot he victim's vehicle, as well as spent shell casings on the street.
The victims did not report any injuries.
Shaw is expected to be arraigned in West Roxbury District Court at a later date. Attorney information was not immediately available.