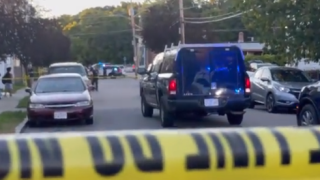 Police are investigating a shooting in Norwood, Massachusetts, on Sunday evening.
The shooting was reported on Sturtevant Avenue. Neighbors said they were watching the New England Patriots game and heard between six and eight gunshots. They said they initially thought it was just fireworks.
Norwood and state police are investigating, and were still processing the scene around 7 p.m.
One neighbor said they saw a male victim laying in the street.
Norwood Police Chief William G. Brooks III said the shooting victim was alive at the scene. He was shot multiple times outside of a car in a drive-by-shooting and was taken by medical helicopter to a Boston hospital. His condition was not immediately known.
Brooks said the public is not at risk.
The area is cordoned off with police tape, and multiple law enforcement vehicles are at the scene.