What to Know
State police said numerous units responded to the area of Davis Square in Somerville on Wednesday for a report of an active shooter.
The suspect is alleged to have shot at Somerville Police after robbing a bank. No officers were injured.
The suspect remains on the loose, and residents are urged to stay indoors as the search continues.
Police continue to search for a suspect who allegedly fired a gun at police after robbing a bank in Somerville, Massachusetts on Wednesday morning.
Massachusetts State Police said numerous units responded to the area of College Avenue in Davis Square at 10 a.m. for a report of an active shooter. The suspect was alleged to have robbed the Middlesex Federal Savings bank and was believed to be armed.
State police said the suspect allegedly shot at Somerville Police and police returned fire. No officers were injured.
Suspect Fires at Police After Robbing Bank in Somerville
"While entering the bank he fired off a round, attempted to rob the bank, an officer entered the bank through another door, the officer and the suspect exchanged gunfire," Somerville Police Chief David Fallon said. "Immediately after that there was a foot pursuit, and we continue to look for this gentleman."
Dave Powers, who was headed to work at the time, said he heard police yelling and stepped in, attempting to stop the fleeing suspect. The suspect escaped, but dropped a backpack that had a gun in it.
"I was in position to react and had enough time to do so, so I did, hoping to slow him down," Powers said.
As the search continued, authorities urged residents in the area to use caution, stay indoors if possible and report any suspicious persons or activity. Some area schools were even placed in lockdown as the search continued.
"We have a dangerous person still on the loose," Somerville Mayor Joe Curtatone said. "Report any information you may have to the Somerville Police Department and to the call lines or to the social media outlets we provide to you."
Local
In-depth news coverage of the Greater Boston Area.
Cambridge Police also issued an alert on Twitter urging its residents to be aware of the police activity in Somerville's Davis Square.
Arlington Police tweeted out a photo of a suspect in the bank robbery around 11 a.m.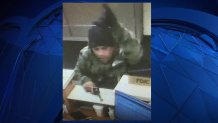 Somerville Police tweeted out a second photo of the suspect shortly after noon, again urging residents in the area to use caution and stay indoors. They described the suspect as 5'9" tall, 175 pounds and between 20 and 35 years old. He was last seen wearing a black stocking hat, camouflage jacket, blue jeans and black sneakers.
The ordeal closed down streets and temporarily locked out visitors at three nearby schools.
"My teacher was like, 'you know what, we are just going to be transparent with you. We are on lockdown. There's a bank robbery,'" recalled John F. Kennedy student Lia Sokol.
Around 10:45 a.m., state police said Somerville and state police had one person in custody. Somerville Police described that person as a "person of interest" and said the person is cooperating.
"We had a person of interest, but we're confident now it was not the person," Somerville Police Capt. James Donovan said.
After searching for several hours, police said they believed the suspect was no longer in the area. They are now hoping that security and surveillance images from the bank and area businesses will help them locate the suspect.
Residents who watched police canvas the are looking for the suspect said the situation was extremely tense.
"Me and my daughter came out onto the porch and they were like, 'no, get back in the house, stay in the house, stay away from the windows,' and that was it," recalled Somerville resident Sandy Williams. "It was crazy. We couldn't do much, but look out the window and try to hear what was going on."
Carpenter James Colella was working on a nearby house when he said police went up to him with guns drawn.
"Two Somerville police officers came with their guns drawn and on me and thought I was the suspect cause I was making noise," said Colella. "Obviously I'm banging a hammer. I'm a carpenter."
Colella said he didn't see the suspect because he had his head down working.
"I come to find out an hour and a half later that they found clothing next door and I heard rustling around over there," he said.
Aerial video from the scene showed about half a dozen police vehicles in the area. One resident said on Twitter that they saw 10 or more police cruisers speeding by.
The MBTA said Davis Station was temporarily closed due to the police investigation. Passengers are encouraged to use the route 77 bus service to Porter in the meantime.
Anyone with information is urged to call Somerville Police at 617-625-1600, ext. 7220 during business hours or ext. 7254 24/7.