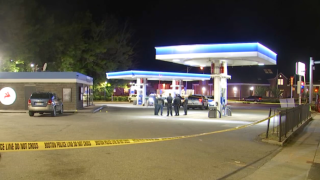 One woman was stabbed and another woman was arrested at a gas station in Boston's Mattapan neighborhood early Tuesday morning, police said.
Police and Boston EMS responded to a report of a person stabbed at the Mobil Gas station located at Blue Hill Avenue and Morton Street just before 2 a.m. Tuesday.
Quasaia Smith, 22, of Dorchester, was arrested and is expected to be arraigned on charges of assault and battery dangerous weapon.
When police arrived on scene, they found an adult female victim suffering from non-life-threatening injuries.
Police also found Smith, who was still on scene. Smith refused several verbal commands to unlock and get out of her car, police said. Officers forcibly entered the car and took Smith into custody. A small child was also in the car.
Emergency crews said three people were taken to area hospitals. No further information was immediately available.