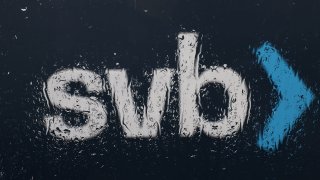 The collapse of Silicon Valley Bank and the shock waves that has sent through the Boston area tech sector is putting Gov. Maura Healey's new administration's connections to federal policymakers and the business community to the test and adding another item to a full to-do list.
Last week's failure of the California-based bank was felt acutely in Massachusetts because of its importance to the region's technology, innovation and life sciences sectors, and because SVB had what Secretary of Economic Development Yvonne Hao called "a broad client base here," including nonprofit organizations and customers of the former Boston Private Bank and Trust Company.
SVB had locations in Boston, Wellesley, Newton and Beverly. Healey said Sunday that her team was in touch with the White House, federal regulators, the state's Congressional delegation, and leaders in the state's business and banking worlds about the bank failure.
"Our administration is actively working to support individuals and businesses affected by SVB's closure and to find solutions to help them address immediate needs, including putting supports in place to ensure that small businesses and employees do not experience significant disruptions," the governor said.
"We will continue to be in dialogue with decision-makers and support all efforts to preserve the strength and stability of our markets and protect jobs, businesses, non-profits and our economy. We have confidence in the strength of our regional banks and banking operations."
Hao, who has experience in the innovation, tech and venture capital worlds, said the administration is "working across secretariats to develop creative solutions to help businesses and individuals meet their needs and fill gaps where necessary."
As of Tuesday morning, the administration had not announced any such steps it had taken. Business leaders have also been busy working the phones in recent days. MassBio President and CEO Kendalle Burlin O'Connell, who said "many of our members have been severely impacted" by the collapse of SVB, told members Sunday that she was in constant touch with state, federal and industry officials "to determine how public and private sectors can work together to provide short-term solutions to companies that are most affected, if necessary."
At the federal level, U.S. Sen. Elizabeth Warren is going after SVB executives and lobbyists over their successful push to roll back Dodd-Frank rules and is calling for Federal Reserve Chair Jerome Powell to recuse himself from the investigation of the Fed's oversight of SVB. U.S. Rep. Jake Auchincloss has pressed for a Massachusetts-focused briefing on the situation from the FDIC.
On Monday, President Joe Biden noted that the FDIC had taken control of the assets of Silicon Valley Banks and Signature Bank.
"All customers who had deposits in these banks can rest assured -- I want to -- rest assured they'll be protected and they'll have access to their money as of today. That includes small businesses across the country that banked there and need to make payroll, pay their bills, and stay open for business," Biden said.
Copyright State House News Service