Sunglasses will certainly be needed for Sunday and Monday for any of your outdoor plans. Mostly sunny skies today will give way to mostly clear skies overnight, which will allow temperatures to dip into the mid to upper teens into the Merrimack Valley and central Massachusetts.
Downtown Boston and coastal areas, temperatures will dip into the lower 20s. After a chilly start to Martin Luther King Day, temperatures will rebound back into to near 40° by the afternoon under mostly sunny skies.
As everyone gets back to work on Tuesday, it will be dry to start, but the system that has impacted the Plain states this past weekend, will shift into the Midwest and eventually knocking on our doorstep as early as Tuesday afternoon and evening.
The latest model update brings rain into the western half of Massachusetts by Tuesday afternoon with the rain/snow line remaining along the northern Massachusetts state line and a wintry mix into southern New Hampshire by the evening commute.
As the system moves in from west to east, expect some heavy rain for the evening commute for Boston with a wintry mix into southern New Hampshire with the heaviest pockets of rain into Worcester and Framingham.
Tuesday night shifts the rain/snow line slightly northward with Manchester, New Hampshire changing over to rain. Parts of western Massachusetts, southern Vermont, and southern New Hampshire, could see some periods of freezing rain Tuesday into Wednesday, and as always stay with NBC Boston for continued updates.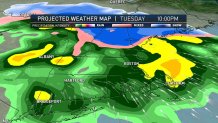 The rest of the 10-day forecast has chances for precipitation through the weekend and into the start of the following work week, but the biggest weather maker is the Tuesday night into Wednesday morning system.