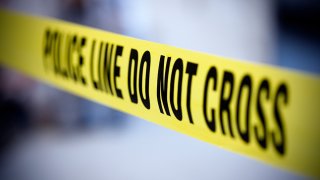 A woman was fatally shot by her cousin in New Hampshire on Saturday, officials said, announcing the arrest of the suspected gunman.
Lance Goodrich, a 35-year-old from Lyme, New Hampshire, was arrested Saturday afternoon, hours after the shooting in Orford left Brooke Goodrich, 25, dead, according to the offices of Attorney General John Formella and State Police Col. Nathan Noyes.
Police were called for a killing investigation, on Route 10 near Tree Farm Road, about 12:30 p.m. Goodrich was arrested at a location on Whitney Barton Road near Ram Brook Road in Newport, about an hour south of Orford.
He faces two counts of second-degree murder in the shooting of his cousin, officials said in a statement. He is scheduled to be arraigned on Monday at Grafton County Superior Court in North Haverhill. It is unclear if he has an attorney.
Authorities haven't said what they believe took place in the shooting, or what Lance Goodrich's suspected motive might be.