A major snowstorm is barreling toward New England and could bring up to a half a foot of snow for some this weekend.
Thursday is the calm before said storm, as abundant sunshine is on tap as high pressure crests over New England. Highs will reach into the upper 40s to near 50 degrees along the south coast. Clouds increase Thursday night ahead of an approaching warm front.
This warm front will usher in increasing moisture overhead. This moisture will fall in the form of rain, snow and sleet on Friday.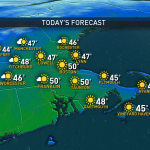 Lows drop into the low 30s Thursday night, low 20s north. Developing low pressure system moves in from the Great Lakes on Friday, bringing early spring mixed precipitation to New England.
Light snow moves into New England during the early morning along the New York state line, but takes its time filling in east. By midday Friday, snow is likely to be falling all the way east into Boston's MetroWest, but intensity will be light at first.
Snow intensity picks up during Friday afternoon. The impact of this will be somewhat offset by temps above freezing. Near the coast, a developing east wind on Friday ensures our 40-degree ocean will play a role, encouraging very wet snow and rain.
Local
In-depth news coverage of the Greater Boston Area.
Deeper inland, air only marginally cold to support snow, surface and aloft. Just one or two degrees are important for snow versus sleet versus freezing rain versus rain.
In a case like this, unfortunately not much trust can be put in computer forecasts of precipitation type. They vary greatly from run to run. Particularly when it comes to sleet versus freezing rain, the difference in cold layer depth required is quite small, but important.
For snow, typically, we'd be looking at a 10-to-1 or 13-to-1 ratio of snow to water. That is, 1 inch of rain equals 10 to 13 inches of snow. Not this time. The relative warmth not only at ground level but also deep through the cloud layer will really cut back on snow to water ratios in this event.
Low ratios means wet snow means sloppy snow means not very good accumulation for most, not all. There comes a point in northern extent where you hit enough cold to stay mostly snow, and that's probably extreme north central Massachusetts/Route 2 northward. From that point north, elevation makes a difference and increases snow amounts.
Farther south, keep in mind the warmth aloft, so hills don't matter as much. Another point for Friday - relatively light intensity coupled with temperatures above freezing means limited daylight road impact central/east.
Interestingly, it's during the day Friday, before the warmth aloft changes precipitation type, where elevation mattersand roads slicken in hills/mountains.
Once you get toward evening Friday, sun angle decreases, then sunset, and this allows temperatures to fall. Roads worsen and snow sticks better. Expect the heaviest precipitation to fall overnight Friday night into early Saturday morning.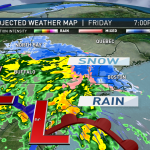 Precipitation begins to wane west to east during the afternoon on Saturday as developing low moves east of New England.
Snow may wrap back around across eastern areas as colder air fills in behind the departing low. Right now, we're expecting a little snow to mix across the south coast before changeover, a couple inches, then sleet along the Massachusetts Turnpike and over half a foot of snowfall possible across interior New England in Vermont and New Hampshire.
Gusty northeast winds develop during the day on Saturday, gusting over 40 mph. A high pressure system moves overhead on Sunday. We're expecting mostly sunny skies with highs in the upper 40s to near 50 degrees.
Looking ahead to the start of the work week, sunny skies look to prevail, with high pressure located over Quebec.
We're keeping an eye on the potential of a storm system impacting the region on Tuesday. This storm would bring additional rainfall to the region, with highs in the mid to upper 40s, near-normal for early April.