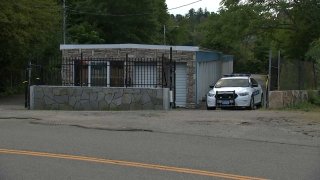 Investigators gave an update Thursday on the person's body found at a storage facility this week in Milford, Massachusetts, identifying the man and how he was killed.
But there wasn't much more information available as the investigation continues.
Paul Weaver, a 54-year-old from Milford, was the man found dead in the storage unit Tuesday, Worcester County District Attorney Joseph Early said. He'd been living there, though it's not yet clear whether he was living with anyone else.
Weaver's body was found with "multiple stab wounds," according to Early.
The death has been under investigation by Early's office, and details on what authorities had been calling an "unattended death" were initially scarce.
The body was discovered at the Beach Street storage facility Tuesday, and investigators were at the scene Wednesday and Thursday.
Early said the body was reported to police by someone who could see into the unit from another one.
Local
In-depth news coverage of the Greater Boston Area.
Asked if the weapon used to kill Weaver had been found, Early said that some evidence had been uncovered during the investigation, but wouldn't get into specifics.
Joe Lahoud watched officers come and go from the storage facility from his pizza shop across the way.
"You saw people going in and out of the storage units, so we figured, 'OK, something big is going on,'" he said.
Wesley Savard rents a storage unit in the facility and said he tried to get his motorcycle from it on Wednesday but saw all the police.
"They told me to come back another day," he said.