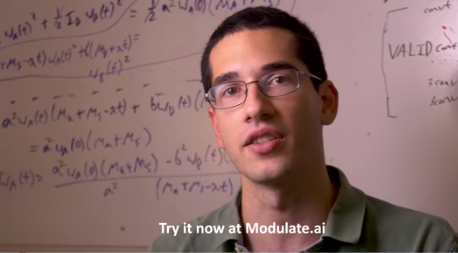 For your hair, there are wigs and hairstylists; for your skin, there are permanent and removable tattoos; for your eyes, there are contact lenses that disguise the shape of your pupils. In short, there's a plethora of tools people can use if they want to give themselves a makeover—except for one of their signature features: their voice.
Sure a Darth Vader voice changing mask would do something about it, but for people who want to sound like a celebrity or a person of the opposite sex, look no further than Boston-based startup Modulate.
Founded in August 2017 by two MIT grads, this self-funded startup is using machine learning to change your voice as you speak. This could be a celebrity's voice (like Barack Obama's), the voice of a game character or even a totally custom voice. With potential applications in the gaming and movie industries, Modulate is launching on Wednesday with a free online demo that allows users to play with the service.
Local
In-depth news coverage of the Greater Boston Area.
The cool thing about Modulate is that the software doesn't simply disguise your voice, but it does something far more radical: it converts a person's speech into somebody's else vocal chords, changing the very I.D. of someone's speech but keeping intact cadence and word choice. As a result, you sound like you, but have in fact someone's else voice.
"You can imagine using this in Hollywood for things like dialog replacement, if you just miss a line, or even, eventually, for characters in animated films," Mike Pappas, CEO of Modulate, said in an interview.
Pappas, an early employee of Paul English's travel startup Lola, left his job in May to focus on Modulate together with his longtime MIT friend Carter Huffman, who started exploring the problem of "style transfer on speech" in his free time three years ago.
To start, Modulate narrowed its target market to the gaming industry, where players may be willing to pay top dollars for customizing their digital characters with a unique "voice skin," as the company defines its product.
At its core, the software is a real-time filter that virtually swaps your vocal chords—but it leaves users a large room for creativity and performance. When imitating someone, people have to make their own impression of their model.
"Speech is really complicated," Huffman, Modulate's CTO, explained. "There's your word choice, there's your accent, there's your cadence, and then there's your vocal chords, and they all play together to assemble your vocal identity: we're giving you control over that vocal identity to expand your range."
At the same time, Modulate is conscious of the moral and ethical implications of the software. Currently, the company could help potential customers to sound like a celebrity like Barack Obama, for example; but before letting this happen, they verify the goals of customers and always include a watermark on all the voice clips they produce.
Celebrity's imitations are not, in the end, what makes Pappas and Huffman most excited about their startup.
"Until now, your vocal chords have defined exactly what you can sound like: you can learn to speak with an accent, or learn to imitate a particular speech pattern, but there's very little you can do about the vocal chords you were born with," Pappas said. "This technology strips that limitation away, so anyone can really explore the whole creative potential of the human voice."
Copyright Boston - BostInno