It seems like a lifetime ago, but they still remember Jimmy Carter in Clinton, Massachusetts, and the time he decided to sleep over at one family's home in 1977.
Sally Lefebvre recalls meeting Jimmy Carter more than 45 years ago when he stayed at her neighbor's home in Clinton.
"There was nothing put on about him at all," she said. "He was so regular."
In 1977, Carter, now 98 years old, came to the central Massachusetts community for a Town Hall meeting with about a thousand people who were chosen by lottery.
"I remember coming down that night. I was not selected for the lottery, but we came to Central Park. You couldn't get anywhere near the place," Terrance Ingano, with the Clinton Historical Society, recalled.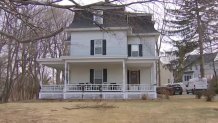 Moments after the Town Hall ended, the president's motorcade arrived at the home of Kate and Gunner Thompson on Chestnut Street where they lived with their eight children.
"He really just wanted family life to continue as it ordinarily would and he would adapt around that," Dan Tenore said.
Tenore and his wife bought the house in 2017. The Thompsons left behind reminders of the visit, including a plaque in the guest room where the president stayed that reads: President Carter slept here March 16, 1977.
"He didn't want to take the master bedroom, which they had offered him," Tenore added.
More on Jimmy Carter
Pictures in a scrapbook show President Carter sitting in the living room with the Thompsons and a few neighbors.
"I just kind of listened," Lefebvre recalled. "He went to bed at 10:30."
The president left the next morning, greeting crowds outside and leaving an impression with people in Clinton.
"We don't always elect presidents who are maybe necessarily wonderful people, this guy was,. He dedicated his life to service," Ingano stated.
Neighbors tell us the Thompson house was not the first choice in town, but when the Secret Service saw the property, they decided it was a better fit because of security considerations.
On Saturday, the Carter Center announced the 39th president, who is the longest-lived American president, had entered home hospice care in Plains, Georgia. Following a series of short hospital stays, Carter "decided to spend his remaining time at home with his family and receive hospice care instead of additional medical intervention."