College is supposed to be a "safe haven," Carolyn Snell says: no one expects a tragedy — a massacre — to happen there. But on Feb. 8, 1968, that sense of safety was shattered when police fired into a crowd of students who were peacefully protesting on the campus of South Carolina State College in Orangeburg, S.C.
Snell and her older brother, Harold C. Riley, are two of six siblings from Orangeburg. Riley was a sophomore student at the college in 1968. He would be shot later during the massacre, and survive.
Orangeburg, then, as it does today, had two historically Black colleges and universities: South Carolina State College (today, South Carolina State University) and Claflin University.
"The climate was — very much so — unrest as it relates to African Americans," Snell said of Orangeburg in 1968, four years after the passing of the Civil Rights Act of 1964, which outlawed segregation nationwide
In early February 1968, students from both HBCUs organized a sit-in at the snack bar of All Star Bowling Lane, the town's sole bowling alley and a segregated establishment. The students were turned away and left peacefully.
The following night, a larger group of students returned to the bowling alley, according to an article in The Charlotte Observer. A historian recounts that a window was shattered, near the bowling alley entrance. Police beat students with wooden batons.
South Carolina Gov. Robert McNair called in the National Guard to patrol Orangeburg. 
On the third evening of protests, Feb. 8, 1968, approximately 200 unarmed, mostly Black students joined together on the South Carolina State College campus to protest segregation.
Snell, who was 11 years old at the time, did not know where Riley was that evening.
"I was in the eighth grade," she recalled. "My parents had sent [one of my] older brothers to pick me up from school. … The [Orangeburg] curfews started on massacre day and when my brother came to pick me up and I asked why, he said, 'Mom and Dad said because of the unrest, they didn't want us walking on the street and [wanted us] home by 6 p.m.'"
Back on the campus of South Carolina State College, student protestors built a bonfire to stay warm, and sang. The campus was put on lockdown, and a small army of National Guardsmen and State Police officers surrounded the campus.
Riley didn't get to campus until that evening, but he noticed something was different — the presence of National Guardsmen and vehicles amidst the protesters. Riley was on campus for only a few minutes when he heard a sound.
"They blew a whistle … that whistle sounded funny to me," he said. "They started shooting them down, the shotguns — Boom. Boom. Booom. Booom."
Riley leapt behind a trash can as bullets whizzed past him: "Bing. Bong. Bing. Bong." He was partially exposed to gunfire and was hit on his leg and left hip.
"[A] man blew a whistle," Riley remembered, "and they stopped shooting."
The Orangeburg Massacre took less than 10 seconds: Unarmed, college-age Black women and men, and at least one high school student, shot at by state troopers.
Three Black students were killed. Their names are Henry Smith, a Black student at South Carolina State College; Samuel Hammond Jr., a Black student at South Carolina State College; and Delano Middleton, a Black high school student at Orangeburg High School, whose mother worked at South Carolina State College.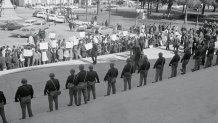 Riley was close with both Smith, whom he calls "Smitty," and Hammond Jr., whom he calls "Sam." Sam spent the last day of his life with Riley, off campus.
"My mother fixed a real nice dinner for us," Riley remembered.
After the massacre, Riley found Sam in the campus infirmary, covered in "red spots all over his body, head to toe."
Riley witnessed Smitty beaten with the back of a gun "until they kill[ed] him."
After the shooting stopped, Riley said, it was horror.
"I got up and must have stepped over a million people, people hollering and crying," he said. "I was running, I was running."

Riley didn't realize that he, himself, had been shot twice until he saw blood on his right leg. When he stood up, he felt like he had "a pocketbook on [his] backside." Riley has no memory of anyone coming to campus to investigate, to see if anyone needed help, or to transport him or any other victims to the hospital.
When Riley's mother took him to the doctor, the bullet in his buttocks would be removed successfully, but the bullet in his leg could not be removed.
"I said, that's a very good idea, because if I ever need some evidence … it's right in my right knee," Riley said. When he got an X-ray a few years ago, he still saw "that little spot," as long as the "end of your little finger."
He points out that many people, himself included, never reported their gunshot wounds. Official accounts report that 27 people were wounded, but Riley believes the number is higher.
"You can't … put no jelly on it, no mayonnaise on it, it is what it is," he said. "A massacre."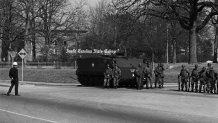 Governor McNair blamed "Black power advocates" for the "violence" of the massacre. In December 1968, nearly one year after the massacre, nine officers were charged with "imposing summary punishment without due process of law." No evidence was presented to demonstrate whether any of the protestors were armed, and a federal jury acquitted the officers after a two-hour deliberation.
Cleveland Sellers, a friend of Riley's then and to this day, was one of the South Carolina State College students protesting segregated facilities the night of the massacre. Sellers had also been a national program director with the Student Nonviolent Coordinating Committee. He was convicted of rioting and jailed for seven months. Sellers was pardoned by the State of South Carolina 25 years later. 
Riley reflects on his own struggle to process his experience.
"It's right next to Martin Luther King dying," he said. "You can't push it aside because you wish you could say it didn't happen. What would South Carolina State be today? Would I have finished? I don't know."
While at South Carolina State College, Riley played football — a halfback — and pursued a major in physical education and a minor in biology.
After the massacre, Riley moved to North Carolina and finished college at North Carolina Agricultural and Technical State University. At A&T, he continued studying physical education and biology, earning his bachelor's degree. He continued playing football, as well.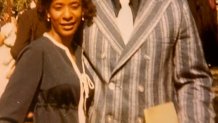 After graduating, he stayed in North Carolina and established his life in Greensboro, where he still lives today with his wife. Riley shared that many other students also left South Carolina State after the night of the massacre.
Riley became an expert interior and drywall specialist, a trade he learned from his father. He did not pursue a professional football career and feels good about the decision, noting football would not have been "a long-term position" for him, and that he stayed in the interior design industry for about 40 years.
He has been semi-retired for nine years. His wife, an educator, has been retired for 19. They have two children, both educators.
"My kids are very sweet," Riley says.
Both children received scholarships while they were in college.
Riley thinks that his 8-year-old grandson might be interested in learning how to bowl, describing Landen as someone who is "very versatile, loves sports ... [and] is very smart — I really appreciate him." Riley sees him about every other week.
Riley adds that every time he sees his kids, he wonders about the family his friends could have had: "I wonder how much … they took from them. I'm a grandparent now … but they will never see that."
"I kind of … promised Smith's mother that I would find an end to this thing. And, 50-something years later, ain't much movement. … They seem like they're trying to forget about us. ... I'm 75 years old."
No one has reached out to Riley about the Orangeburg Massacre in over 50 years, since Jet Magazine met with him in the late 1960s and photographed his injuries.
When asked if there was anything else he would like to share, Riley said he'd like to talk to a member of the National Guard that was at the protest.
It would be "good to hear from somebody else on the other side," he said. "I know my side, and my side ain't gonna change.
"I often see myself walking up [to] Columbia [South Carolina's state capital] … with my pretty suit on and shiny shoes and testify. How long [has] that been? Over 50 years."
Riley says he will go back to Orangeburg one more time — in February 2023 — "and that will be my last."
Comcast NBCUniversal's Voices of the Civil Rights Movement platform honors the legacy and impact of America's civil rights champions. Watch more than 18 hours of firsthand accounts and historical moments online and on Xfinity platforms.
Content funded by Comcast Cable Communications Management, LLC, an affiliate of NBCUniversal Media, LLC, the parent company to this station.