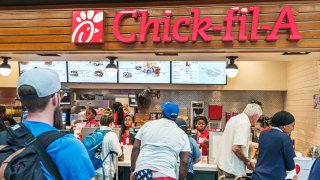 Fans of the Chick-fil-A side salad have less than two weeks to say their goodbyes before the Georgia-based chain removes it from the menu on April 3.
On Monday, the Tifton location in south Georgia shared a flier on their social media announcing the decision.
"A fond farewell to this menu item," the caption read. "We are spring cleaning here at Chick-fil-A and taking this opportunity to refresh our menu."
The dish, which includes mix greens topped with a blend of shredded Monterey Jack, Cheddar, red peppers and tomatoes, is commonly paired with the popular chicken nuggets.
Fans of the popular side salad who hoped the move would be contained to specific franchises will be disappointed to hear this decision applies to all locations. Customers who order the side salad between now and April 3 will receive fliers like the one posted by the Tifton location, according to TODAY.
A representative for Chick-fil-A, Inc. confirmed the menu omission to TODAY.
"Serving guests is at the heart of all we do at Chick-fil-A," they said. "In order for our Restaurant Team Members to continue to deliver quality food and signature hospitality, at times we have to make difficult decisions to help simplify our menu. Starting April 3, the Chick-fil-A Side Salad will no longer be offered in our U.S. restaurants."