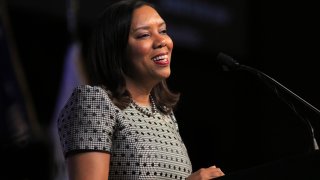 Rhode Island Lt. Gov. Sabina Matos announced Monday that she is running for U.S. Congress in the upcoming special election for the First District Congressional seat being vacated by David Cicilline.
She said she will formally kick off her campaign in April.
In a statement, Matos, 49, said she's running "because Rhode Islanders need a champion who has a deep connection and commitment to the vibrant communities that make up our state." She added that she is prepared to keep fighting for the things that matter to the state's residents, including "addressing affordable housing, protecting reproductive freedom, working to solve our climate crisis, and standing up to the threats to our democracy."
She also thanked Cicilline for his service to the state.
"Congressman David Cicilline has served our state with great distinction and we owe him a debt of gratitude for his lifelong commitment to public service," Matos said. "His dedicated work to improve the lives of all Rhode Islanders is a model for all our state's leaders. He leaves big shoes to fill and I'm committed to doing my part to ensure that Rhode Islanders continue to have a strong voice in Washington."
Matos has been Rhode Island's lieutenant governor since being nominated by Gov. Dan McKee in March 2021, when he replaced former Gov. Gina Raimondo, who left for Washington to serve as the U.S. Commerce Secretary.
She made history as Rhode Island's first Dominican American and first Afro Latina lieutenant governor — as well as the first Black woman to hold statewide office in Rhode Island and the state's second female lieutenant governor.
Prior to serving as lieutenant governor, Matos served as president of the Providence City Council. She was first elected to the city council in 2010 and was voted president in 2019.
She and her husband live in Providence with their two children.
Cicilline, 61, was reelected in November to a seventh term in the House, but announced last month he will be stepping down on June 1 to take over the Rhode Island Foundation, which funds nonprofits.
"Serving the people of Rhode Island's First Congressional District has been the honor of my lifetime. As President and CEO of one of the largest and oldest community foundations in the nation, I look forward to expanding on the work I have led for nearly thirty years in helping to improve the lives of all Rhode Islanders," Cicilline said in a statement at the time.