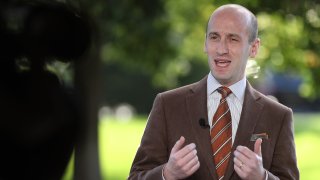 President Donald Trump's senior adviser Stephen Miller has fleshed out plans to rev up Trump's restrictive immigration agenda if he wins re-election next week, offering a stark contrast to the platform of Democratic nominee Joe Biden.
In a 30-minute phone interview Thursday with NBC News, Miller outlined four major priorities: limiting asylum grants, punishing and outlawing so-called sanctuary cities, expanding the so-called travel ban with tougher screening for visa applicants and slapping new limits on work visas.
The objective, he said, is "raising and enhancing the standard for entry" to the United States.
For more on this story, go to NBC News.