Voters headed to the polls for the state primary election in New Hampshire Tuesday to decide on Democratic and Republican candidates in the race for governor, U.S. Senate and the House.
Under a temporary change to state law, anyone concerned about the coronavirus was allowed to vote by absentee ballot, either by mail or by dropping off completed ballots with election officials on Tuesday. Safety measures were in place at the polls, though it was up to each community on whether or not to require masks.
For example, in Bedford, there was a mask mandate inside the high school. But people who, for any reason, wished to cast their ballots without wearing masks were able to do so in a tent outside.
In the school, masks had to be worn and social distancing had to be maintained. Voters who spoke to NBC10 Boston understood.
"It's the new normal now, so you just got to do it," said voter Susan Foote.
Hand sanitizer was provided, but people were warned not to spill it on their ballots.
"Because if something gets spilled and a ballot tries to go through the voting machine, it may not make it," said Town Moderator Bill Klein. "And if it jams or we get paper clogs in there, we can't necessarily repair it."
Key races include the Democratic gubernatorial primary, where two Concord attorneys hoping to upgrade their Statehouse experience are competing in Tuesday's Democratic gubernatorial primary for a chance to replace Republican Gov. Chris Sununu, who easily defeated two longshot primary challengers to secure his spot on the November ballot.
Democrats Dan Feltes and Andru Volinsky both have emphasized their blue-collar upbringings and early experience as lawyers. Feltes worked as a legal aid attorney before being elected to the state Senate in 2014. Volinsky was the lead counsel in a landmark education funding lawsuit in the 1990s before being elected to the Executive Council in 2016. That lawsuit led to rulings that firmly established the state's obligation to provide and pay for an adequate education, but the lack of progress since then drove Volinsky into the governor's race. Unlike Feltes, he did not take the traditional pledge to veto a sales or income tax, and believes all options should be on the table. On the Executive Council, Volinsky has been a vocal opponent of many of Sununu's appointments, including the governor's failed nomination of Attorney General Gordon MacDonald as state Supreme Court chief justice. Feltes, meanwhile, believes closing corporate loopholes would provide enough revenue to boost funding for schools, and highlights the current state budget, which significantly increased education funding. In his three terms in the Senate, he sponsored legislation on paid family medical leave, clean energy, worker protection and other Democratic priorities. But many of his bills got vetoed by Sununu, who has called both Democrats out of touch and unprepared to lead New Hampshire.
Feltes claimed victory late Tuesday night but Volinsky is not conceding the primary, the Associated Press reported.
In the GOP primary, Sununu faced longtime conservative activist Karen Testerman, of Franklin, and "Nobody," a Keene man who officially changed his name from Rich Paul. Though his opponents criticized him, Sununu has enjoyed widespread support for his handling of the coronavirus pandemic as he seeks a third, two-year term. In a statement, he said he was humbled and grateful for his win Tuesday night.
"We put a great team together for our state and provided the leadership necessary to guide New Hampshire through these unprecedented times,'' he said. "Many of our biggest challenges still lay ahead, and in 2021 New Hampshire will need the management experience to promote businesses, keep our state safe, and invigorate economic opportunity for families. Others just talk — I believe in results. We will keep getting the job done.''
The son of a former governor, Sununu was the youngest governor in the country when he took office in 2017 at age 42. Now 45, Sununu will face Feltes or Volinsky in the general election.
While fellow Republicans held a majority in the Legislature during his first term, Democrats won majorities in 2018, prompting him to set a record for vetoed legislation. Sununu has been a supporter of President Donald Trump, though he did not attend the president's recent rally in Londonderry beyond greeting him as he arrived. Trump lost New Hampshire to Hillary Clinton in 2016, and Democrats hold all four seats in the state's Congressional delegation.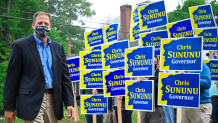 Democratic U.S. Sen. Jeanne Shaheen, 73, the first woman in U.S. history to serve as both governor and U.S. senator, easily defeated two longshot challengers in her primary as she runs for a third term. Shaheen defeated former state Rep. Tom Alciere, of Hudson, and retired dentist Paul Krautmann, of Keene.
Alciere, who describes himself as an "Orthodox Libertarian extremist,'' served as a Republican for a few weeks in 2001 before resigning over violent online comments. Krautmann has said his goal is to stop war and start peace.
Shaheen has touted her record of working across party lines to make a difference for New Hampshire families, on issues including veterans' access to health care and helping small businesses during the coronavirus pandemic.
"When it comes to making a difference for New Hampshire, she gets the job done, and her record stands in sharp contrast to whoever the Republicans nominate tonight,'' said her campaign manager, Harrell Kirstein.
Bryant "Corky'' Messner won the Republican primary for U.S. Senate on Tuesday, defeating a fellow veteran and setting up a bid to deny Sen. Shaheen a third term. Messner, who was endorsed by President Donald Trump, defeated Retired Brig. Gen. Donald Bolduc and longshot candidates Andy Martin and Gerard Beloin in the GOP primary.
"We're not going to celebrate, we're going to unify,'' he told supporters at a gathering organized by the Trump campaign. "I'm not celebrating anything, I'm going to work, because we have a big mission ahead of us.''
The 63-year-old Army veteran and attorney cast himself as a political outsider, saying he gained leadership experience in the military and private sector after founding a Denver law firm that has expanded to eight other cities. Bolduc, his main opponent, tried to use that outsider label against him, contrasting his deep roots to New Hampshire with Messner's relatively recent arrival from Colorado. After owning a vacation home in Wolfeboro for many years, Messner only made it his permanent residence about two years ago. But he said voters rarely brought that up to him, and that his background and ideas won them over.
Messner poured nearly $3.8 million of his own money into his campaign, making up nearly 90% of the total he raised as of Aug. 19. He had $2.5 million on hand, compared to Shaheen, who had raised $15.6 million by that date and had $7.2 million left. Both are likely to rake in substantial sums raised nationally before the general election, however.
"They better not underestimate me,'' Messner said. "We are coming for Jeanne Shaheen.''
The director of the UNH Survey Center, Andrew Smith, had said prior to the primary that the outcome could reveal how much support Trump has in the state.
"Is Trump's power within the party strong enough to overcome someone from being from out of state and parachuting into the state?" Smith said.
Recent polls had shown neither candidate was well known even within the GOP, however.
"I think most voters are treating them as generic Republicans, they don't know anything about either of them," Smith said.
Trump also endorsed Matt Mowers in the 1st Congressional District, where Mowers was one of five Republicans -- Matt Mayberry, Michael Callis, Jeff Denaro and Kevin Rondeau rounded out the ballot -- competing for a chance to deny U.S. Rep. Chris Pappas a second term.
Mowers, a former official in Trump's State Department and a political neophyte, won the Republican primary for the 1st Congressional District in New Hampshire and will face Pappas -- who ran unopposed in the Democratic primary -- in November. The 31-year-old former State Department official was the favorite after he won the coveted endorsement from President Trump in June.
In the 2nd District, the GOP primary featured 2018 nominee Steven Negron and Lynne Blankenbeker, who also ran that year, along with Eli Clemmer and Matthew Bjelobrk.
Blankenbeker has conceded defeat to businessman Negron in the primary for the 2nd Congressional District. Negron, who runs a defense engineering and consulting firm, finished first in a seven-candidate field in 2018. But he lost to Democrat Annie Kuster. Negron is a former state representative who announced his candidacy back in March 2019. If Negron is declared the winner, he will face Kuster again in November.
Kuster won the Democratic primary in New Hampshire's 2nd Congressional District in her bid for a fifth-consecutive term. Kuster, of Hopkinton, defeated Joseph Mirzoeff, of Keene, a former trader who also worked for an insurance company and pension consulting firms. In filing for re-election, Kuster said she was committed to increasing economic opportunity across New Hampshire, expanding access to broadband internet, reducing opioid misuse, lowering the cost of prescription drugs, and continuing to improve care for veterans and mental health care.
Voters also will be choosing nominees for all 400 House seats, the 24 Senate districts, the five-member Executive Council and county offices.
The Associated Press/ NBC