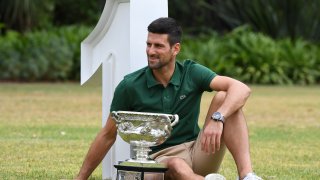 That's another record for Serbian tennis star Novak Djokovic.
The 35-year-old has been atop the men's tennis rankings for an all-time record of 378 weeks, surpassing women's tennis legend Steffi Graf's time in the top spot.
"It's surreal to be that many weeks No. 1, to match Graf -- one of the all-time greats," Djokovic said Sunday. "Just being amongst these legendary names is flattering. I'm proud of it."
As of Monday, Djokovic has 6,980 singles points and 22 Grand Slam titles to his name.
Graf, who is also a 22-time Grand Slam champion, held the No. 1 WTA ranking for 377 weeks before retiring in 1999.
Who has spent the most time as world No. 1 in professional tennis?
The tennis players who have spent the most time in world's top spot are as follows:
Novak Djokovic- 378 weeks
Steffi Graf- 377 weeks
Martina Navratilova- 332 weeks
Serena Williams- 319
Roger Federer- 310
When is Novak Djokovic's next tournament?
After suffering a hamstring injury in Australia, Djokovic returns to competition pain free at the Dubai Duty Free Tennis Championships.
The No. 1 seed is set to face Czech Tomas Machac in the first round Tuesday.
Is Novak Djokovic playing Indian Wells 2023?
Novak Djokovic is on the list of entered participants for the 2023 tournament in California.
Because of the COVID-19 vaccine mandate and travel restrictions, Djokovic has not competed at Indian Wells or the Miami Open since 2019. These are the two biggest tournaments in America after the U.S. Open.
The tournamrnt director of Indian Wells, former pro tennis player Tommy Haas publicly said it would be "a disgrace" if Djokovic was unable to play the tournaments due to resctrictions.
Indian Wells begins March 6 while the Miami Opens starts March 19.