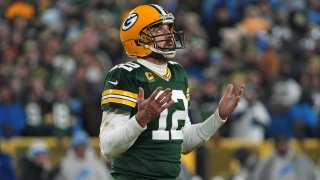 Report: Packers to explore Rodgers trade ideas exclusively to AFC originally appeared on NBC Sports Chicago
Aaron Rodgers might be switching conferences.
As the 39-year-old's future with the Green Bay Packers continues to hang in the balance, one of the possible scenarios could be a trade.
If the Packers opt to travel that route, they reportedly would only look to move him to the AFC, ESPN's Adam Schefter said on SportsCenter Monday.
"The big [offseason trade] could involve Aaron Rodgers," Schefter said. "It's hard to imagine that's he going to retire and walk away and surrender a $110 million dollars in guaranteed money. So, that means he's either back with Green Bay or the team explores the idea of trading him."
"...Doesn't mean it will happen," Schefter added. "...I think the [conference] is important. I don't think that there's anyway the Packers would trade him in the NFC. And if they do go ahead and trade him, it would be to the AFC."
Rodgers just signed a three-year, $150 million deal last offseason that made him the league's highest-paid quarterback, but the Packers' inability to immediately contend for a Super Bowl and a lack of cap space going into next year could mean Jordan Love becomes the next man up under center in 2023.
A potential trade could cost a team multiple first-round picks, but the prospect of seeing Rodgers in a jersey not colored green, yellow and white for the first time in the NFL is seemingly growing by the minute.
Copyright RSN