Precipitation with our latest storm was slow to organize, which meant the heaviest of it came after the atmosphere had warmed enough to significantly limit any snowfall in the southern half of New England.
The precipitation surely came, though, with a widespread inch to inch and a half of rainfall for many, with locally higher amounts, and immediate coastal gusts of 50 to 60 mph in the predawn, reaching 65 mph atop Blue Hill in Milton, Massachusetts.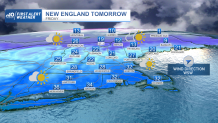 As rain departs for emerging sun Thursday morning and northern mountain snow ends as sleet until renewed scattered snow showers develop, cooler air is gradually filtering into New England on a west-southwest wind gusting at times to 45 mph. That's not enough for damage in most spots, but enough to make the slowly falling temperatures feel nippy by day's end, with late day temperatures in the 30s for many with a wind chill teetering on 20s.
Overnight Thursday night, a partly cloudy sky above low in the 20s with a continuing breeze will make for a wind chill in the teens. The wind quiets Friday with variable clouds and a weak late day disturbance touching off a few flurries and sprinkles of little consequence. For late January, the weekend looks great. High temperatures will be milder-than-normal in the 40s south and 30s north, while upper atmosphere disturbances each day will touch off snowflakes in Ski and Snowmobile Country — ambiance snow showers Saturday, and a developing swath of light snow Sunday that drops 2 to 4 inches spread over the day and evening.
That same Sunday disturbance will deliver lots of clouds to southern New England, with a chance of rain or mixed rain and snow showers late in the day and evening with little consequence expected, and a 40 percent chance some of those snow showers will still be around in scattered form Monday.
The next chance of a more organized storm comes midweek next week and has been on the 10-day for some time, so the signals have been consistent of snow or snow and rain and our team will keep a close eye on that potential. Behind that storm, we actually look to open the door to some more bona fide winter cold for at least a few days into next weekend.