New England is facing a wave of arctic air rushing in this Friday into Saturday. It will be a quick but stinging cold air that's threatening with strong wind gusts.
The reason why this specific event is taking top headlines is not just the cold air after a warm start to 2023. It's also the force of the wind gusting 40-50 mph that may pose a risk of power outages.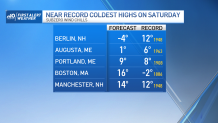 How Cold Will New England Get?
With temperatures feeling 30-50 degrees below zero across the area, the risk of suffering hypothermia will increase without an alternate heating source. Whether is pellets, firewood, or whatever it might be, you'll want to make sure you've got enough of it to heat your home for 24 hours. Thankfully, we'll watch for a quick turnaround on temperatures as Sunday welcomes temperatures back to the 40s.
How High Will the Wind Gusts Be in New England?
Wind is the reason why temperatures in the teens and single digits will feel as cold as 30 below in Boston and 50 below in Berlin, New Hampshire. The strongest winds will take place across all New England starting Friday from mid-morning into Friday night out to the Cape. While Saturday morning's gusts might not be AS strong, they will still reach 40 mph at times along most of Maine and southeastern Massachusetts allowing for wind chills ranging 30 to 45 degrees below 0.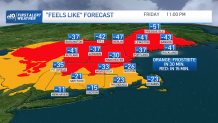 How Should I Prepare for the Cold Weather in New England?
Plan ahead and check your car battery, tire pressure, fuel, cell phone battery and have a blanket inside the car in case of an emergency. Stay hydrated, just like in the summer, since water helps regulate body temperature.
Should you let your outdoor faucets run? The answer is no. If you do this, that water will freeze immediately. Secondly, if you LOOSE power (heat) or have poor home insulation, you might want to consider letting your indoor faucets drip slowly to prevent pipes from bursting as the water running through may freeze and expand.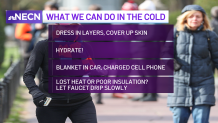 In the 10-day forecast we'll see temperatures keeping a mild trend with above average highs reaching the 40s from this upcoming Sunday to the beginning of next weekend.