We're waking up to partly cloudy skies on Wednesday, with temperatures in the lower 30s. Expect cloudy skies by late morning, and the chance for a passing sprinkle on the Cape or the Islands. Highs are milder, in the middle 40s.
Thursday is also cloudy, with the chance for a sprinkle or shower well east. Highs remain in the lower to middle 40s for daytime highs.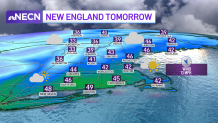 Friday is beautiful, with highs in the middle 40s, and mostly sunny skies.
Our next storm system arrives for Saturday. Snow is likely, but temperatures will be in the upper 30s, and the system looks to be a bit further south, so best chances for accumulation may be interior parts of Norfolk, Plymouth and Bristol Counties. Snow may continue into Sunday, with highs around 40.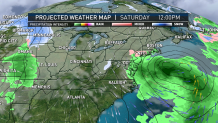 There's an unsettled to start next week, with another larger scale system on the horizon for later Monday and Tuesday. The First Alert team will keep you updated on the very latest.