As we start the work week, early rain or snow will quickly ends by late Monday morning. Sunshine will return, with highs around 40 by mid-afternoon.
On Monday night, skies become mostly clear, with seasonable cold, as lows sink to the middle and upper 20's.
Tuesday is mostly sunny, and colder, with highs in the middle and upper 30's. For Wednesday, skies start mostly sunny, but clouds arrive in the afternoon. Highs will be in the middle and upper 30's.
Our next storm system arrives Thursday, and like so many other storms this season, rain, not snow is likely for the Boston area. Snow will begin well west in the mountains, and move into the Boston area as rain by Thursday early evening. Highs are in the lower 40's.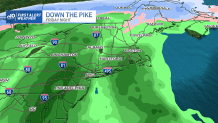 Friday is very mild, with rain heavy at times through the afternoon. High temperatures near 50 degrees. Rain winds down early Saturday, with a few snow showers possible later in the day, highs in the middle and upper 40's.