It's a seasonable day across New England with mostly quiet and calm conditions inland. Temperatures will top out in the upper 30s across southern New England. Increasing sun continues this afternoon with a quiet evening.
It's off in the coast where we're tracking slightly higher seas coinciding with astronomical high tide allowing for coastal inundation to become a risk. Up to a foot of water may end up flooding our coasts.
Temperatures will dip to the teens overnight allowing for any moisture over untreated surfaces, which are only a few, to freeze and become slippery.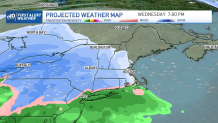 Tomorrow welcomes more clouds as our next low creeps in bringing rain along the south and snow from the Berkshires up to VT and extends through Maine by the overnight to Monday.
While eastern Mass is set to see mostly rain, some spots along Worcester county and Metro West may see snow with the back edge of this system; this may produce a slow and slippery commute with the wintry mix in parts of eastern Mass.
Tuesday is a nice and quiet day with more sun but more rain, wind and snow is coming our way with our next low. This is set to bring more accumulating snow to the mountains, snow to a wintry mix in eastern Mass that may switch back to more rain before this low exits.
Wind gusts over 35 MPH in the green mountains and widespread gusts over 25 mph. Aside from these next two storms, our long term outlook of Jan 28 to February 3 trends with more seasonable highs.