A gorgeous stretch of spring weather will transition to a summer preview for many later this week, and delivers plenty of sunshine with dry air.
Each spring we usually are game for one or two stretches like this in New England, which is a welcome treat for most of us coming off the winter, and a sure sign we've turned the corner to the new season. Of course, with dry weather comes a few concerns worth mentioning. The combination of dry brush leftover from last year, a lack of new leaves to cast shade on the ground, days of strong sunshine and no rain has led to dry brush, ready to burn should a fire start.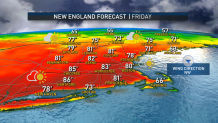 With a gusty southwest wind to 35 mph at times Tuesday afternoon, the National Weather Service hoisted a Red Flag Warning – a warning that conditions favor explosive fire growth should a fire develop. Here in New England and much of the Northeast, humans are almost always the cause of brush fires – namely, cigarettes tossed aside and embers from brush burns that fly away. Another impact of the dry air is a dehydrating condition for the body, so staying hydrated will help stave off headaches, unless of course that headache is allergy-related, considering pollen will remain high this week in the dry and warming air.
All of that said, so many New Englanders find joy when spring temperatures resemble summer, and after a few classic spring days of 60s and 70s Tuesday and Wednesday, inland communities should rise into the 80s Thursday and Friday. At the seashore, it always takes a relatively strong breeze to offset a sea breeze and it's very close as to whether we see a strong enough breeze either Thursday or Friday, so right now our forecast is for temperatures at the coast, including Boston, to rise into the 70s before turning back around as the sea breeze circulation sets up. It would be great if this weather could hold into the weekend, but that's not likely to be the case as a weak area of low pressure nears New England Saturday and turns the wind onshore while increasing the clouds, cooling temperatures noticeably.
Showers should hold off until Saturday night and Sunday, when temperatures will struggle to get out of the 50s at the coast but should reach the 60s inland with scattered showers. Given a fairly large upper atmospheric storm moving east toward New England from the Great Lakes at the jet stream level, right now it does look like there's ample reason to keep scattered rain showers in the forecast for at least the morning of Patriots Day for the Boston Marathon, and though the greatest chance appears to be limited to the morning with a west-southwest, quartering tailwind taking over for the runners and temperatures rebounding from around 50 at the start to around 60 by afternoon in Boston, it's still early and there's plenty of time for the details to change.
Regardless, our exclusive First Alert 10-day forecast certainly looks different next week – far closer to normal temperatures for this time of the year.