Our warm-up continues on Wednesday with rising temperatures to the 50s and near 60s in the afternoon. The warmest communities will focus out west as the warm and mild air flows in to Connecticut and the Berkshires.
The increasing moisture will allow for some clouds to remain, as we also saw a few sprinkles and light showers popping up this morning. Highs in the mid-50s to Boston, upper 50s to Connecticut and lower 50s in Vermont to New Hampshire.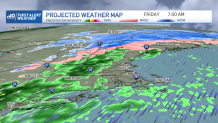 All of us will watch the rising temperatures through the progress of our early afternoon. Wednesday evening we'll watch for a cold front dropping temperatures in northern New England to the 30s, but the battleground in the southwest remains. Another warm up on Thursday will see rising temperatures on either side of 60 degrees from Boston to Providence, Rhode Island and Hartford, Connecticut.
Scattered showers will push through Thursday late afternoon and evening. A more varied precipitation event is expected Friday with initial mix of rain, freezing rain and snow in the mountains early Friday.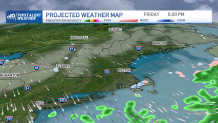 Rain will follow to central and southern New England Friday mid-morning into the early afternoon. Most of the showers will exit by the second half of the day with drier and colder air pushing south. With this cold front, temperatures Saturday will be the coldest with highs in the lower 40s. Sunday brings a rebound to the 50s along more clouds.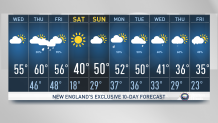 Next week, we'll start with showers and the rest of the week will follow with a wetter pattern as well as cooler temperatures by the end of next week. Highs will start in the 50s Monday and slowly make their way down to the 30s by Thursday and Friday. The chance for snow in southern New England is also in the horizon.