We've been fortunate this winter with above average temperatures through much of the season. In fact, season-to-date, this is the seventh warmest winter thus far, and among the top five warmest Januarys on record. That comes to a screeching halt later this week. The first week of February will feature frigid temperatures and dangerous wind chills.
The coldest temperature we've had this season was 11 degrees on Christmas Eve. This will be substantially colder.
A short but sharp Arctic air mass moves in Friday, and lasts for much of the day Saturday.
In the days leading up to our airmass change, the weather is mostly quiet thanks to high pressure across the region. Wind a southerly component to the wind, temperatures are also seasonable too, in the 30s to near 40-degree range by Thursday.
Things start to change as gusty northwest winds crank up throughout Friday. Gusts are beyond 40 mph during the day. This will signal the change as our arctic air originates from Siberia. Friday night and Saturday morning will feature some of the coldest air in seven years. On Valentine's Day 2016, temperatures reached 9 degrees below zero.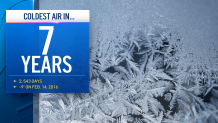 It's very important to check on elderly neighbors, those without heat and those who may be unhoused. Pets should not be left outdoors during this time period. To protect against freezing pipes, ensure plumbing is well-insulated, and leave faucets dripping.