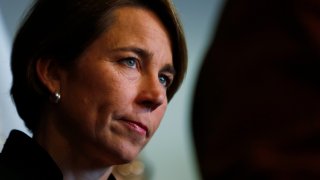 Massachusetts Gov. Maura Healey further reshaped the leadership at the under-fire MBTA on Friday, replacing three members of the agency's board of directors and bringing a former T chief back into the fold.
Less than two weeks after her hand-picked general manager started his tenure, Healey announced action to remove a trio of T overseers installed by former Gov. Charlie Baker and named former MBTA General Manager Thomas Glynn, former Sen. Thomas McGee and commercial banker Eric Goodwine in their place.
The shakeup marks a return to the T for Glynn, a longtime transportation leader in Massachusetts who served as general manager of the agency under former Gov. Michael Dukakis. He will serve as the board's new chair, replacing Betsy Taylor.
"I am excited to return to the MBTA in a different capacity but with the same goal -- to deliver the world-class service that millions of MBTA riders need and deserve," Glynn said in a statement. "It's time that the MBTA Board takes on the sense of urgency that this crisis demands. We can't settle for the status quo -- we need bold action to meet this moment and address the challenges facing the T right now."
Healey's appointments jettisoned Taylor, who had helmed the latest iteration of the MBTA management and oversight board since its inception in 2021, as well as fellow Baker appointees Scott Darling and Mary Beth Mello. In a statement, Healey thanked the group "for their service and commitment to our communities."
Darling and Mello served coterminously with the governor. Taylor's term was set to run until Oct. 7, 2024, and she will resign Friday, according to a Healey spokesperson.
Healey reappointed the only other board member serving coterminously, Robert Butler, to remain on the panel. Members Chanda Smart and Quincy Mayor Thomas Koch will continue their terms, as will Transportation Secretary Gina Fiandaca, who until Friday had been the only Healey pick on the panel.
Copyright Boston Business Journal