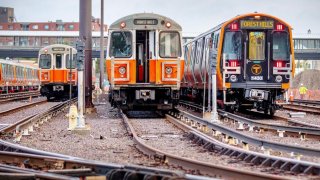 Half-full MBTA trains and buses are a challenge to the transit system's long-term operations, with major shortfalls projected.
The T relies on state funding for most of its operating budget. But while federal pandemic aid has helped prop it up, and will continue through fiscal 2025, it'll take a new source of funding to keep the agency's services intact and to help the Boston area's pandemic recovery.
By fiscal 2025, which begins halfway through next year, the T could have shortfalls as high as $139 million, according to its own projections. By fiscal 2028, that could balloon to between $365 million and $543 million. Those fare shortfalls could be compounded by new expenditures, including the Green Line extension that opened this year, and the South Coast Rail, which is slated to begin running later this year.
Senator Brendan P. Crighton, a co-chair of the Legislature's transportation committee, said Beacon Hill has been working to increase funding outside its dedicated revenue sources to keep the system from facing fiscal calamity.
Copyright Boston Business Journal