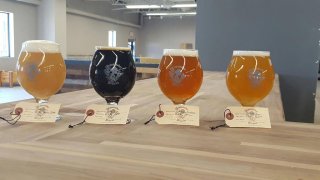 Ryan Lavery and John Brennan had been friends for two decades before becoming business partners for the first time in late 2021.
Lavery, who runs Braintree's Widowmaker Brewing Co., found that Brennan's food truck, Bone & Bread, was a great match for his beer. Now, the pair are moving their relationship from the South Shore to Brighton.
Widowmaker and Bone & Bread will take the place of Brato Brewhouse + Kitchen, which closed last fall. Lavery saw a great potential in moving into a neighborhood that's booming with the Boston Landing project just a few blocks away, but the kitchen didn't interest him.
"Running a restaurant is really the last thing I want to do," Lavery said.
For Brennan, it was a perfect fit. He plans to keep the food truck and let the kitchen double as a commissary for Bone & Bread, which he now hopes can gain an audience north and west of Boston with its more central location.
"It's playing to your strengths," Brennan said of the joint arrangement. "You understand what you're good at, and pair with someone else to create something that's really unique."
Copyright Boston Business Journal