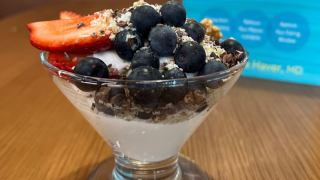 INGREDIENTS:
3/4 cup plain full-fat Greek yogurt (such as Fage)
1/4 cup sliced fresh strawberries 1/4 cup fresh blueberries
1/4 cup chopped walnuts
1 tablespoon ground flaxseed
1 tablespoon chia seeds
1 tablespoon hemp hearts
1 tablespoon unsweetened coconut flakes
2 to 3 ice cubes (for a smoothie) or water (for a parfait), as needed
PREPARATION:
AS A PARFAIT
Combine all the ingredients in a bowl and stir well. Serve at once.
AS A SMOOTHIE
Place all the ingredients except the water in a blender. Blend until smooth, adding a little water as necessary to reach the desired consistency.
Watch below to make this recipe side-by-side with Anna and Mary!