On Tuesday, Miss Massachusetts USA 2016 Whitney Sharpe shared a TikTok video captioned, "When a vendor accidentally shares his group Teams chat and it's all nasty things about me. It's 2023 can this stop."
The video has since received over 7 million views and over 1 million likes, gaining traction with topics revolving around sexual harassment in the workplace and the gap that still stands between men and women in certain fields.
Sharpe says she was on a video chat for a business meeting when the vendor accidentally shared the chat function in which "nasty" things were being said about her. She called them out on the spot.
Sharpe talked with Maria Sansone about what happened, and why she felt the need to hit the record button.
"Looking back, if this ever happens again, I wish I didn't refer to it as 'locker room talk.' I think locker room talk is putting a pretty bow on something that is not pretty," says Sharpe, adding, "I should've called it for what it was. I should've said, 'I do not stand for sexual harassment.'"
Watch the full interview with Whitney Sharpe above to hear more.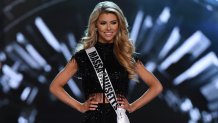 Want to know what's up for your weekend? Click here to subscribe to our free weekly newsletter about events, experiences and adventures for you and for your family around Boston. (You might even find a few freebies!)
Hub Today
Want the scoop on EVERYTHING going on in Boston and around the Bay State? Watch The HUB Today, Tuesday-Thursday 11:30a on NBC10 Boston. Plus, The Hub Today Presents Mom2Mom Mondays at 11:30a and The Hub Today Presents The Chef's Pantry Fridays at 11:30a.