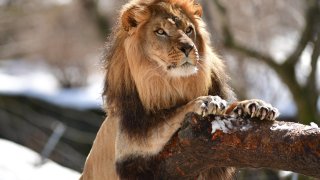 Markets enter March after a rough February.
General Motors lays off 500 salaried employees.
Lowe's is the latest retailer to offer a cautious sales outlook.
Here are the most important news items that investors need to start their trading day:
1. In like a lion?
Time to wipe the slate clean with a new month. With a bleak February in the books, investors are wondering what March could bring. The Dow is negative for the year after finishing last month down nearly 4.2%. The S&P 500 and Nasdaq are still positive for 2023 despite falling 2.6% and 1.1%, respectively, in February. On Wednesday, investors will chew over more economic data, as well as earnings reports from home improvement retailer Lowe's and retail chain Kohl's. Follow live markets updates.
2. General Motors layoffs
Just weeks after General Motors executives said they weren't planning any layoffs, the company laid off about 500 salaried employees. The cuts come on the heels of performance evaluations, and they are part of the company's plans to trim $2 billion in costs over the next two years. The layoffs affect a "small number of global executives and classified employees following our most recent performance calibration," according to internal company communications. The auto industry had largely avoided layoffs until recently, with major technology companies dominating the news about job cuts. Last month, GM rival Ford said it would slash about 3,800 jobs in Europe.
3. More retail caution
Lowe's is the latest to join the retail caution parade. The home improvement retailer followed its rival Home Depot, as well as big box giants Walmart and Target, in issuing conservative sales guidance for the year. To focus specifically on home improvement, Lowe's and Home Depot find themselves in a a particularly murky space. Mortgage rates are higher (see below), which is putting the squeeze on the housing market, which should put more of an emphasis on renovations as more people stay in their current homes. Yet many people have already used pandemic-era stimulus money, home equity or other savings to spruce up their homes during the earlier days of Covid.
4. Mortgage demand sinks
For a little while there, you could see some green shoots ahead of the spring selling season. But maybe the groundhog meant six more weeks of housing market winter when he saw his shadow Feb. 2. In just about a month, mortgage rates have risen a half a percentage point, and that has pushed demand for mortgages to buy a home to a 28-year low. Mortgage applications to purchase a home dropped 6% week over week, according to the Mortgage Bankers Association. Demand is down 44% compared to the same period last year, when rates were in the 4% range. Discover more about the latest mortgage data from CNBC's Diana Olick.
5. Rough report for Rivian
Rivian, the upstart EV truck maker, reported lackluster earnings Tuesday, while also forecasting a lighter-than-expected production output for the year. Rivian said it expects to produce 50,000 vehicles this year, well below Wall Street's estimates of about 60,000. The company blamed supply chain issues for recent hiccups, as suppliers were short on certain components. While the company is a little gloomy about this year, it does see some silver linings. "We expect supply chain challenges to persist into 2023 but with better predictability relative to what was experienced in 2022," Rivian said in a letter to shareholders.
– CNBC's Alex Harring, Michael Wayland, Gabrielle Fonrouge, Rebecca Picciotto and Diana Olick contributed to this report.
— Follow broader market action like a pro on CNBC Pro.
Copyright CNBCs - CNBC