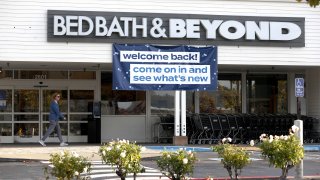 Bed Bath & Beyond missed analysts' expectations for fourth-quarter earnings and revenue, as it struggled with out-of-stock merchandise.
CEO Mark Tritton said the company is making progress with its turnaround, though, by welcoming back customers, remodeling stores and expanding its private-label business.
Along with its turnaround effort, the home goods retailer is competing for shoppers' dollars as inflation is at a four-decade high and some consumers focus their attention outside the home.
Bed Bath and Beyond's shares fell Wednesday as the home goods retailer reported a holiday-quarter loss, spoke of struggles with low inventory and congested ports, and warned that consumer demand is slowing.
CEO Mark Tritton said out-of-stock merchandise caused the company to miss out on about $175 million in fiscal fourth-quarter sales. That's higher than the prior quarter, when supply chain bottlenecks cost the company about $100 million.
Tritton said in a CNBC interview that the home goods retailer is disappointed by its results. He said "major headwinds in the macro environment" have slowed the company's turnaround efforts.
For instance, he said, moving goods costs more and some best-selling items from national brands are in short supply due to missing components, such as microchips that go into vacuums. Plus, he said, the majority of its seasonal merchandise got stuck at ports and arrived late.
On a conference call following the company's earnings report, Chief Financial Officer Gustavo Arnal said challenges have continued in the first quarter. He said consumers feel growing uncertainty, which is leading to a pullback in demand. So far in the first quarter, he said same-store sales are down by about 20% — a deeper decline than the prior three months.
Bed Bath did not provide a specific forecast Wednesday but said it expects sales and margins to improve in the second half of the upcoming fiscal year, as supply chain conditions ease.
Here's how the retailer did in the three-month period ended Feb. 26 compared with what analysts were anticipating, based on Refinitiv data:
Loss per share: 92 cents vs. profit of 3 cents expected
Revenue: $2.05 billion vs. $2.07 billion expected
The company's net loss grew to $159 million, or $1.79 per share, from net income of $9 million, or 8 cents a share, a year earlier. Excluding one-time items, it lost 92 cents a share. Analysts surveyed by Refinitiv had expected earnings per share of 3 cents.
Sales fell 22% to $2.05 billion from $2.62 billion a year earlier. That fell short of estimates for $2.07 billion.
Same-store sales, a key retail metric, dropped 12% across Bed Bath's business compared with the year-ago period. Same-store sales declined 15% for the Bed Bath & Beyond banner and grew by low single digits for the BuyBuy Baby banner.
Digital sales declined by 18% compared with the year-ago period, which partially reflects the shift back to stores and normalizing e-commerce levels.
A bumpy ride
Bed Bath has been on a bumpy ride, as Target veteran Tritton has sought to refresh the retailer's brand with the launch of private-label products, store remodels and closures of underperforming locations. Its stock has been drawn into meme-stock rallies along with AMC Entertainment and GameStop.
As of Tuesday's close, Bed Bath's shares were up about 23% so far this year, well ahead of the retail industry and the broader market. The retailer's stock closed at $17.97 on Tuesday, down 6.75%, bringing its market value to $1.73 billion.
The retailer has also been under pressure from investors — including activist Ryan Cohen, chairman of GameStop and founder of Chewy.
The retailer recently struck a deal with Cohen's firm, RC Ventures, by agreeing to add new board members and explore whether it should spin off or sell its BuyBuy Baby business, which has been one of its bright spots.
Still, Tritton said Bed Bath is making progress with its transformation. He said it is investing in technology, welcoming back customers with postcards and targeted emails and expanding its more profitable private-label business.
He said Bed Bath is doing a complete overhaul of its supply chain so it can better manage all of its merchandise as it imports goods and moves them to distribution centers and stores. He said that technology, which acts like "a virtual control tower," will go live at the end of this month. The company is adding more regional distribution centers on both sides of the country. Those efforts were already underway, but have become more urgent, he said.
"The timing of these pressures and the timing of the completion of the strategy is the friction point," he said.
Some analysts and retail experts aren't convinced.
Neil Saunders, managing director of GlobalData Retail, called Bed Bath's results "absolute carnage." He said Bed Bath must fix its operations or risk sales slipping further.
He also cast doubt on the company blaming its performance, in part, on geopolitical dynamics — noting that its quarter ended just two days after Russia invaded Ukraine.
"These results are very, very bad, and I know they're trying to pin them on external factors and I get why — I'd probably do the same," he said. "But now, the year ahead is really an acid test for them because they've got to now prove that the strategy they're putting in place has legs and that it can work over the long term."
Saunders said the retailer must carve out its own identity, rather than copying competitors such as Target, and move more quickly to reflect consumers' mood on its website and with store displays. For example, he said, it missed the "cozy" trend in the early months of the pandemic by not moving bedding and other related home goods to the front of the store.
CNBC reached out to Bed Bath for a response to Saunders' criticism, but it did not immediately comment.
Chasing growth opportunities
On an earnings call, Tritton emphasized the retailer's growth opportunities. He said the company plans to open 20 to 25 new BuyBuy Baby stores and remodel 130 to 150 Bed Bath stores this year. With the additional remodels of its namesake banner stores, he said it will have remodeled over 200 locations — or roughly a quarter of its Bed Bath stores — by the end of the fiscal year.
He also pointed to new initiatives, including a deal with Kroger to sell products on its website and to open shops inside its grocery stores.
And he said it wants to tap into an expected wedding boom this year by encouraging couples to register at its stores. He said the company is "seeing an uptick" in wedding and baby registry sign-ups.
"We just need to get our inventory in the stock to be able to facilitate that," he said.
Along with executing on its turnaround efforts, Bed Bath must compete for shoppers' dollars, as inflation is at an approximately four-decade high. Consumers are also weighing other spending priorities, such as summer vacations and spring wardrobes, which may direct their attention elsewhere.
Saunders, however, said higher prices could actually inspire Americans to focus on the home again.
"People may say, 'Well, it's kind of expensive, so we're going to spend a bit more time at home rather than vacation, so we're going to prioritize being in the garden and being outside,'" he said. "All of those things are areas that they need to look at and they need to be very tactical about saying, 'Where are the growth spots? And let's pivot into those.'"
Tritton acknowledged in a CNBC interview that the backdrop is tougher, especially since households no longer have extra dollars from the government such as child tax credits. Yet he said he's optimistic about the long-term outlook.
"We think there's an evergreen, strong home market that has had some erratic ups and downs and when it normalizes, we think there's a great business to be had," he said. "We're part of customers' lives and their wants and needs and to ensure that we're in stock and servicing that need is our key agenda."
Copyright CNBC