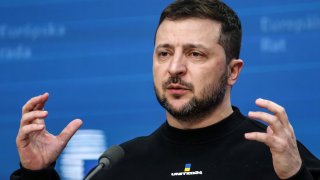 This is CNBC's live blog tracking developments on the war in Ukraine. See below for the latest updates. 
Several people were killed in different parts of Ukraine after overnight Russian strikes, Ukrainian news outlets reported, claiming the attacks were carried out by Iranian-made "Shahed" drones and fighter jets. A number of towns lost power again as emergency teams work to bring it back, local authorities said.
Ukraine ally Estonia branded a much-talked about Chinese peace plan as "extremely unfair." Estonian leadership says that the 12-point plan does not respect Ukraine's territorial integrity.
Chinese President Xi Jinping's highly publicized visit to Moscow earlier this week failed to achieve any breakthrough in the Russia-Ukraine conflict, but visibly touted the closeness between Xi and his Russian counterpart Vladimir Putin.
Meanwhile, Ukraine's military leadership is signaling that a much-anticipated counteroffensive is coming "very soon" as Russian forces appear to lose momentum in parts of eastern Ukraine.
Milley met with Finnish officials at the Pentagon to discuss the Nordic country's ascension to NATO
U.S. Chairman of the Joint Chiefs of Staff Gen. Mark Milley met with Finland's Ambassador to the U.S. Mikko Hautala and the Finnish Chief of Defense General Timo Kivinen at the Pentagon.
The parties discussed European security issues and additional ways to support Ukraine, according to a Pentagon readout of the meeting.
Milley also reiterated U.S. commitment to supporting Finland's application for NATO membership.
— Amanda Macias
More than half of Ukrainians are at risk of developing mental health problems, Kyiv says
The Ukrainian government estimated that more than half of Ukraine's population is at risk of developing mental health problems due to Russia's ongoing war.
The government in Kyiv has previously said that Russian shelling of civilian infrastructure, like healthcare facilities, adds to the challenges facing individuals seeking mental health support. Russia has previously denied that its forces in Ukraine target civilian infrastructure or commit war crimes.
In December, the World Health Organization said that 10 million people, or about a quarter of Ukraine's population, may suffer from a mental health disorder in relation to the conflict.
"WHO estimates that up to 10 million people are at risk of some form of a mental disorder, varying from anxiety and stress to more severe conditions," Jarno Habicht, the WHO's representative in Ukraine said in December.
— Amanda Macias
Ukraine using Soviet-era choppers to pummel Russia from afar
Skimming the treetops, three Soviet-era attack helicopters bank and swoop down on a field after an early-morning mission to the front lines in the fight against Russia's invasion of Ukraine.
Each day, they might fly three or four sorties, says the commander, whose two-crew Mi-24 helicopter, built about 40 years ago, is older than he is.
"We are carrying out combat tasks to destroy enemy vehicles, enemy personnel, we are working with pitch-up attacks from a distance from where the enemy can't get us with their air defense system," said the commander, who spoke on condition of anonymity for operational security reasons, in line with military regulations.
The conflict in Ukraine is largely an artillery war, with territory being fought for inch by inch under a barrage of shells and missiles. But Ukraine's aviation capabilities play a significant role in the fight, the pilot said.
"The importance of the helicopters is huge," said the commander, who is part of Ukraine's 12th Army Aviation Brigade.
Footage from a camera attached to the helicopter during a recent combat mission shows it flying over fields pockmarked with craters from artillery bombing, and firing missiles at Russian trenches that cut through the landscape.
— Associated Press
More than $400 billion needed for Ukrainian reconstructions costs, official says
Oleksandr Kubrakov, Ukraine's deputy prime minister for reconstruction, said the country's reconstruction costs are an estimated $411 billion.
Kubrakov said the priority areas are critical infrastructure, housing and essential social and transport facilities.
Last month, Ukrainian Prosecutor General Andriy Kostin said that so far, more than 75,000 buildings, including homes, schools and hospitals, have been reduced to rubble due to Russia's war.
— Amanda Macias
Russia carried out 40 airstrikes and more than 20 rocket attacks against civilian infrastructure, Ukraine's military says
Russian forces carried out 40 airstrikes, five missile strikes and more than 20 rocket attacks against Ukrainian troops as well as civilian infrastructure in populated areas, Ukraine's military wrote in a daily update.
Ukraine said that it carried out 16 strikes on sites concentrated with Russian military personnel and equipment.
Ukraine's armed forces also said that there were Ukrainian civilian casualties, but did not provide a tally.
"The Russian troops continue the assault on the city of Bakhmut, which is held by our [Ukrainian] defenders," the group added.
— Amanda Macias
Zelenskyy discusses restoration projects with World Bank representatives
Ukrainian President Volodymyr Zelenskyy held a meeting with a delegation from the World Bank to discuss projects aimed at restoring Ukrainian transport infrastructure, electricity and health care.
"We are grateful for the number of programs that the World Bank implements in Ukraine, especially after the start of a full-scale war. We thank you for the willingness to come to our aid even in the face of military challenges," Zelenskyy said, according to a readout of the meeting provided by the Ukrainian government.
The two parties agreed to continue coordinating additional financial and humanitarian assistance in a timely manner.
— Amanda Macias
Ukraine's first lady launches mental health program
Ukraine's first lady launched a program dubbed "How Are You," to promote mental health as her country fights off a full-scale Russian invasion.
"Against the background of daily alarming news, missile attacks, human grief and trouble, it doesn't seem appropriate to ask yourself, "How are you? But in fact, psychological well-being and understanding of what is happening in our inner world is more timely than ever," Olena Zelenska said in a Ukrainian government release.
"The battle with pain, past traumatic experience is an invisible front where we also have to win. The weapon in this battle is daily care for mental health, which is an inseparable whole with physical health," Zelenska added.
— Amanda Macias
Ukraine's ambassador to the U.S. seen leaving Speaker McCarthy's office
Oksana Markarova, Ukraine's ambassador to the United States, was seen leaving U.S. House Speaker Kevin McCarthy's office on Thursday evening after about 45 minutes there, NBC News reported.
Markarova then departed McCarthy's office with Republican Texas Rep. Mike McCaul, who chairs the House Foreign Affairs Committee. McCaul took selfies with Markarova and walked with her down the hall as they left McCarthy's suite.
McCarthy told NBC that he did not meet with Markarova, but believes she dropped off a book about Ukraine. McCaul also told NBC that he did not meet with Markarova, despite them leaving McCarthy's office at the same time.
Markarova, who is Ukraine's former minister of finance, has served as Ukrainian President Volodymyr Zelenskyy's top diplomat in the United States since 2021.
Read the full story on NBC News.
— Amanda Macias
Ukrainian artillery recruits take part in a live-fire exercise in England
Ukrainian artillery recruits come to the end of their training on AS90 155mm self-propelled guns. Ukrainian personnel have been live-firing the guns for the first time, under the supervision of their British Army instructors, at a British Army training facility.
— Finnbarr Webster | Getty Images
Zelenskyy attends graduation of newest officers in the Ukrainian National Guard
Ukrainian President Volodymyr Zelenskyy attended the graduation of more than 330 new officers in the National Guard of Ukraine.
"Today we add 334 more reasons to our victory, which the Ukrainians are bringing closer with all their might - 334 warriors of the National Guard of Ukraine who have completed their training and are joining the Defense and Security Forces of Ukraine," Zelenskyy said in a speech, according to a readout by the Ukrainian government.
"334 officers who, under any circumstances, have to increase the glory of Ukraine, protect the freedom of Ukraine, take care of Ukrainian men and women," Zelenskyy added.
He said that the Ukrainian National Guard has become "one of the key elements of the general defense system of our country, which prevents the enemy from conquering Ukraine."
— Amanda Macias
New prosthetics facility opens in Lviv to support those wounded in Russia's war
A rehabilitation center in Lviv, Ukraine will manufacture new prostheses for those wounded in Russia's war.
The facility, sponsored by Nezlamni, which translates to "unbroken" in English, expects to make about 100 prostheses a month.
Ukraine's Ministry of Health purchased equipment from a German company in order to manufacture new prostheses for those hurt in Russia's war.
The team of prosthetists has already been joined by patients who lost limbs due to the war, in particular, military personnel.
— Stanislav Ivanov | Global Images Ukraine | Getty Images
Three ships leave Ukraine under Black Sea Grain Initiative
Three ships carrying 60,522 metric tons of agricultural products left Ukraine's ports of Odesa and Chornomorsk.
The vessels are destined for Italy, Egypt and Tunisia, and are carrying corn.
The Black Sea Grain Initiative, a deal brokered in July among Ukraine, Russia, Turkey and the United Nations, eased Russia's naval blockade and saw three key Ukrainian ports reopen. The deal was extended this month for 120 days.
So far, more than 700 ships have sailed from Ukrainian ports since the deal began.
— Amanda Macias
EU officials announce initiative to repatriate Ukrainian children
European Union Commission President Ursula von der Leyen announced that she and Polish Prime Minister Mateusz Morawiecki will work with Ukrainian officials as part of a mission to bring home Ukrainian children taken out of the country by Russia.
"Deporting children is a war crime. In partnership with the Ukrainians, Prime Minister @MorawieckiM and I have launched an initiative aimed at repatriating Ukrainian children abducted by Russia," von der Leyen wrote in a post on Twitter.
Ukrainian and Western officials allege that Russian forces have moved at least 6,000 Ukrainian children to camps and facilities across Russia for forced adoptions and military training.
A report published in February by the Conflict Observatory at Yale University's Humanitarian Research Lab, entitled "Russia's systematic program for the re-education and adoption of Ukraine's children," outlines what it calls the Kremlin's systematic efforts to abduct children, prevent their return to Ukraine and "re-educate" them to become pro-Russia. 
Russia has repeatedly denied its troops have committed war crimes or deliberately targeted civilians in attacks, and the Russian Embassy in Washington called the report's allegations "absurd."
— Natasha Turak and Amanda Macias
The Spanish army trains Ukrainian troops at the Toledo Infantry Academy
The Spanish army trains Ukrainian military in urban warfare, firing range exercises and medical evacuations at Toledo Infantry Academy in Toledo, Spain.
The issue of military aid for Ukraine has stoked tensions within Prime Minister Pedro Sanchez's governing coalition with its junior partner, the far-left Unidas Podemos party, which is urging the administration to focus on pushing for peace instead of sending weaponry.
— Paul Hanna | Bloomberg | Getty Images
Death toll in Kostiantynivka rises to 5, emergency service says
The death toll in Kostiantynivka in eastern Ukraine's Donetsk region after Russian overnight attacks rose to five on Friday afternoon, counting two men and three women, Ukraine's State Emergency Service reported via Facebook.
"On the night of March 24, the city of Kostiantynivka came under missile attack," the post read, according to a translation by Ukrainian state news outlet Ukrinform.
"One of the missiles hit a one-story building where the point of invincibility was operating. Rescuers of the 16th state fire-rescue unit arrived at the scene and started emergency rescue operations," it said.
State outlets said that an "invincibility point" had been hit during an attack carried out by both drones and fighter jets. Invincibility points are the name for locations around Ukraine set up to provide generators for charging phones and other essential electronics.
— Natasha Turak
Bodies of 83 Ukrainian soldiers returned to Ukraine
The bodies of 83 Ukrainian military servicemen were returned to Ukraine, Oleh Kotenko, the commissioner for missing persons, reported via Telegram.
The process was made possible via negotiations and with the help of the Office of the Commissioner for Missing Persons of the Ministry for Reintegration of the Temporarily Occupied Territories, Ukrainian state outlet Ukrinform reported.
"Every time we transfer the bodies of fallen defenders, we strictly follow the Geneva Convention norms. Negotiations with the opposite side do not stop in order to bring everyone back home as soon as possible," Kotenko said, according to a Ukrinform translation.
— Natasha Turak
Several civilians killed in overnight Russian strikes: Ukrainian news agency
Several people were killed in Russian strikes on different parts of Ukraine overnight, Ukrainian state broadcaster Suspilne reported. The attacks used Iranian-made "Shahed" drones and fighter jets, the agency said.
"At night, Russian troops shelled a "point of invincibility" in Kostyantynivka, Donetsk region. Three resettled women from other settlements of the region died under the rubble, and two more people were injured," Suspilne wrote in a Telegram post, according to a Google translation.
"Sumy district came under massive fire at night: the Russian Federation used about ten fighter jets, artillery and "Shahed" drones. Two people were killed in the city of Bilopillya, nine others were injured. In Kryvyi Rih, Dnipropetrovsk oblast, there were five hits by "Shahed" drones. Air defense forces managed to shoot down one," the post read.
CNBC has not independently verified the information.
— Natasha Turak
Russia likely to keep training forces under 'much less experienced' Belarusian army, UK says
Russia's troop movements in Belarus suggest that it is continuing a training program in the country with Belarusian forces, despite the latter's military being far less experienced, Britain's Ministry of Defense wrote in its daily intelligence update on Twitter. Retaining a training ground there also conveys important political messaging, it said.
"As of mid-March 2023, Russia had likely redeployed at least 1,000 troops who had been training at the Obuz-Lesnovsky training ground in south-western Belarus," the ministry wrote.
"Although no new rotation of troops has been noted, Russia has highly likely left the tented camp in place, suggesting it is considering continuing the training programme," it noted.
"The fact Russia has resorted to training its personnel under the much less-experienced Belarusian army highlights how Russia's 'special military operation' has severely dislocated the Russian military's training system – instructors have largely been deployed in Ukraine."
— Natasha Turak
China's plan to end the war in Ukraine is 'unfair,' Estonia says
China's peace proposal to end the war in Ukraine is "extremely unfair," the permanent secretary of Estonia's Ministry of Defense told CNBC.
Beijing's 12-point peace plan doesn't respect Ukraine's territorial integrity and hasn't been fair to its people, Kusti Salm told CNBC's "Squawk Box Asia" on Friday.
"Whenever we measure … the feasibility of any peace deal, it needs to be measured against the same principles. Are we outrooting the aggression as a tool?" he asked.
"Are we honoring the territorial integrity and sovereignty of independent nations?"
Those are the "key ingredients and elements missing" from China's peace proposal, he said.
Chinese President Xi Jinping's three-day visit to Russia concluded on Wednesday, but failed to make any meaningful breakthrough in resolving Ukraine's conflict.
For more, read here.
— Audrey Wan and Sumathi Bala
Zelenskyy calls on EU to continue supporting Ukraine, imposing pressure on Russia
Ukrainian President Volodymyr Zelenskyy warned that if Europe hesitates in supporting Ukraine, "evil may have time to regroup and prepare itself for years of war."
"It is in your power not to allow this to happen," Zelenskyy said in a sweeping speech before members of the European Council.
The Ukrainian president also reiterated calls for more military aid from European leaders.
"The more often Ukrainian cannons hit the occupier – the less chance Russia has to implement its genocidal policy against Ukrainians and other Europeans," Zelenskyy said.
"God forbid anyone should see it happen in his or her own country," he added.
Zelenskyy also thanked members of the European Union that support the work of the International Criminal Court in holding Russian President Vladimir Putin to account for the ongoing war in Ukraine.
— Amanda Macias
Ukraine signals counterattack is coming as Wagner mercenaries take a hit
Ukraine's most senior ground forces commander said the country's forces will launch a much-anticipated counteroffensive "very soon" just as Russian forces are seen to be losing momentum in Donetsk in eastern Ukraine.
Colonel-General Oleksandr Syrskyi said on Telegram Thursday that Russian forces have not given up "hope of taking Bakhmut at any cost, despite the losses in manpower and equipment," noting that the main Russian units taking a hit were mercenaries in the Wagner Group.
"Without sparing anything, they lose considerable strength," he said, adding that "very soon we will take advantage of this opportunity, as we once did near Kyiv, Kharkiv, Balakliya and Kupiansk," he said, according to comments translated by Google.
The comments come as military analysts view Russia's offensive around Bakhmut in eastern Ukraine as losing momentum after seven months of brutal, incessant fighting that has left Bakhmut largely in ruins and thousands of soldiers dead on both sides, estimates of daily fatalities suggest.
Ukraine has previously signalled that it would launch a counter-offensive in spring but has also been waiting for the arrival of more Western weaponry.
Syrskyi said soldiers on the front line in Bakhmut had demonstrated "superhuman resilience, courage and bravery" in the face of "continuous fire of the enemy's artillery and aircraft."
— Holly Ellyatt
A look at the uranium-based ammo the UK will send to Ukraine
Russia threatened to escalate attacks in Ukraine after the British government announced it would provide to Ukraine a type of munition that Moscow falsely claims has nuclear components.
The British defense ministry on Monday confirmed it would provide Ukraine with armor-piercing rounds containing depleted uranium.
Such rounds were developed by the U.S. during the Cold War to destroy Soviet tanks, including the same T-72 tanks that Ukraine now faces in its push to break through a stalemate in the east.
Depleted uranium is a byproduct of the uranium enrichment process needed to create nuclear weapons. The rounds retain some radioactive properties, but they can't generate a nuclear reaction like a nuclear weapon would, RAND nuclear expert and policy researcher Edward Geist said.
That didn't stop the Russians from offering a full-throated warning that the rounds were opening the door to further escalation. In the past, they have suggested the war could escalate to nuclear weapons use.
Both the the British ministry and the White House dismissed the Russian accusations. But the ammunition does carry risks even if it's not a nuclear weapon.
— Associated Press
Read CNBC's previous live coverage here:
Ukraine signals counterattack to come 'very soon' as Wagner mercenaries suffer large losses
Copyright CNBCs - CNBC