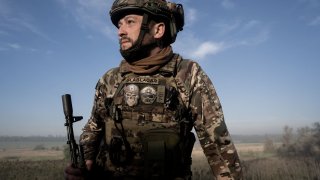 This was CNBC's live blog tracking developments on the war in Ukraine on May 22, 2023. See here for the latest updates. 
Ukraine is refusing to concede defeat in the largely ruined eastern town of Bakhmut after Russian mercenary forces claimed they were now fully in control of the town after months of fighting.
Ukraine's President Volodymyr Zelenskyy said Sunday that "Russia did not occupy Bakhmut" as he attended a news conference at the Group of Seven summit in Japan, rebuffing claims by Russia's mercenary Wagner Group leader Yevgeny Prigozhin that his forces had fully captured the town in the Donetsk region on Saturday.
The head of Ukraine's ground forces Colonel-General Oleksandr Syrskyi said Sunday that his forces still controlled parts of Bakhmut and that they were not ready to give up.
Meanwhile, Prigozhin downplayed the contribution of the regular Russian army in the claimed capture of the town, saying his fighters had been let down by the Russian Defense Ministry leadership.
'Counter-terrorism operation' in Russia's Belgorod region continues, governor says
The governor of Russia's Belgorod region said on Tuesday the "counter-terrorism operation" in the region was ongoing, with the defense ministry and law enforcement agencies continuing "to clean up" the territory on the border with Ukraine.
"On the situation in the Graivoron district: the cleaning of the territory by the Ministry of Defense together with law enforcement agencies continues," the governor, Vyacheslav Gladkov, said on the Telegram messaging app.
"I now appeal to the residents of the Graivoron district, who ... temporarily left their homes, it is not possible to return yet."
Gladkov said Monday that at least three people had been injured and three houses and a local administrative building damaged during a cross-border attack from Ukraine.
A senior aide to Ukrainian President Volodymyr Zelenskyy said Kyiv had nothing to do with the armed operation in the Belgorod region.
"Ukraine is watching the events in the Belgorod region of Russia with interest and studying the situation, but it has nothing to do with it," presidential adviser Mykhailo Podolyak tweeted.
"As you know, tanks are sold at any Russian military store, and underground guerrilla groups are composed of Russian citizens." In a written statement to Reuters, Podolyak said Ukraine's military operates only on Ukrainian territory and echoed Ukrainian military intelligence in blaming Russian partisans for the incursion.
— Reuters
Power restored to Zaporizhzhia nuclear power plant
Power has been restored to the Russian-occupied Zaporizhzhia nuclear power plant in southern Ukraine following an outage earlier today that Ukraine's state-owned nuclear energy company blamed on Russian shelling.
Energoatom said earlier Monday that the plant was forced to go into "blackout mode" and that back-up diesel generators were operating at the plant to make sure nuclear fuel was kept cool.
Later this morning, Energoatom and Ukraine's national grid operator Ukrenergo said power had been restored to the plant, which is occupied by Russian forces. The outage today was the seventh the plant has experienced, Energoatom said.
Ukraine and Russia continuously accuse each other of endangering the nuclear plant, Europe's largest, and the International Atomic Energy Agency has repeatedly called for the facility to be "demilitarized."
— Holly Ellyatt
Russian air strikes wound eight in Ukraine's Dnipropetrovsk, officials say
At least eight people were wounded and scores of buildings were damaged in an overnight Russian air strike on the Dnipropetrovsk region in southeastern Ukraine, local officials said on Monday.
Video footage released by emergency services showed a huge crater in a courtyard and fire fighters dousing the remnants of blazes in huge piles of rubble near bombed-out buildings.
With a Ukrainian counteroffensive looming 15 months after Russia's full-scale invasion, Moscow has intensified missile and drone strikes this month after a lull of nearly two months. Waves of attacks now come several times a week.
"The Russian invaders attacked military and infrastructure facilities of the eastern outpost of Ukraine - the city of Dnipro," Ukraine's air force said on the Telegram messaging service, referring to Dnipropetrovsk's main city.
It said Russia had launched 16 different types of missiles and 20 Shahed-136/131 strike drones, and that Ukrainian air defences had shot down 20 Russian drones and four cruise missiles.
At least one man was wounded in the attack on Dnipro, and seven people were hurt in the Synelnykivskyi district of the Dnipropetrovsk region, regional governor Serhiy Lysak said.
Scores of buildings, including private homes, apartment blocks and administrative infrastructure were damaged or destroyed, he said. Reuters was unable to independently verify the reports.
— Reuters
Fighting continues in Bakhmut, Kyiv says, with Russia bulking up forces
Kyiv says Ukrainian troops are advancing around Bakhmut while Russia is bulking up forces, rebuffing claims by Russia that its fighters have fully seized the town in eastern Ukraine.
"Now the fiercest battles are taking place in the Mariinka, Avdiivka, and Bakhmut directions. The enemy is concentrating most of its forces in the direction of Bakhmut," Ukrainian Deputy Defense Minister Hanna Maliar said on domestic television, NBC reported.
"The situation has not fundamentally changed since yesterday ... You remember that yesterday we remained in control of certain infrastructural facilities, as well as private houses in the southwestern part of the city. Today we still control this, albeit small, part of the city," she said.
"Fighting continues. Last night, the enemy carried out a sweep of the territories he took under control; that is, they checked whether any of our sabotage groups remained there," Maliar said.
She said Russian forces in the city — which are made up largely of mercenary fighters — were being forced to go on the defensive in parts of the city.
"Due to the fact that we moved along the flanks from the north and south and occupied certain heights there, we made it very difficult for the enemy to stay in the city. And we continue to advance [on the flanks]. The intensity is somewhat reduced, but we keep moving. In the north, there are much less action now. In the south, we are moving forward," she said.
— Holly Ellyatt
Wagner mercenary group head says his forces will leave Bakhmut soon
The head of Russia's prominent private military company, the Wagner Group, said Monday that his fighters will soon leave the town of Bakhmut his fighters claimed to have captured.
Commenting on his business' Telegram channel, Wagner chief Yevgeny Prigozhin said "there are lines of defense on the western outskirts [of Bakhmut] now therefore, PMC Wagner is going to leave Artemovsk from May 25 to June 1," he said, using the Soviet-era name for Bakhmut.
The Wagner Group claimed to have wholly captured Bakhmut in eastern Ukraine on Saturday, after months of bloody combat in and around the town. Ukraine has denied Russia's claims that the town has fallen, saying it continues to hold positions on the outskirts of the town.
Prigozhin said his group would hand over control of the city to the regular Russian army and made a another dig at the Russian Defense Ministry, with which he has a very fractious relationship, saying it could send its generals — whom he has frequently disparaged as lacking the requisite skills for their positions — to defend the town.
"If there are not enough personnel in the ministry of defense (to replace Wagner), we have thousands of generals (in Russia), so we just need to make up one general's regiment, put everyone under arms - and everything will be fine," he said wryly.
— Holly Ellyatt
Russia says F-16s to Ukraine would raise question of NATO involvement
The transfer of F-16 jets to Ukraine would raise the question of NATO's role in the conflict and would not undermine Russia's military goals, senior Russian diplomats said on Monday.
U.S. President Joe Biden on Friday endorsed training programs for Ukrainian pilots on F-16 fighter jets and Ukrainian President Volodymyr Zelenskyy assured Biden that the aircraft would not be used to go into Russian territory.
"There is no infrastructure for the operation of the F-16 in Ukraine and the needed number of pilots and maintenance personnel is not there either," Russia's ambassador to the United States, Anatoly Antonov, said in remarks published on the embassy's Telegram messaging channel.
"What will happen if the American fighters take off from NATO airfields, controlled by foreign 'volunteers'?"
Russia's deputy foreign minister Sergei Ryabkov said any transfer of the U.S. jets to Ukraine would be "absolutely pointless and stupid", state-owned news agency RIA reported.
"These efforts are completely useless and meaningless: our capabilities are such that all the goals of the special military operation will certainly be achieved", Ryabkov was cited by RIA as saying, using Moscow's preferred term for the conflict.
During their summit on the weekend in Japan, the G-7 countries signalled long-term support for Ukraine. President Volodymyr Zelenskyy, who also attended the gathering, said he was confident that Ukraine would receive supplies of the F-16.
— Reuters
Zaporizhzhia nuclear power plant goes into blackout mode after shelling
Ukraine's state-owned power generating company Energoatom said Monday that there has been another power cut at the embattled Zaporizhzhia Nuclear Power Plant (the ZNPP), marking the latest misfortune to hit the plant.
Energoatom said on Telegram that the ZNPP's latest outage, the seventh since the start of the war, was due to Russian shelling of an external power line.
The "ZNPP is going into blackout mode," Energoatom said. "After the loss of external power, which is vitally necessary to ensure the operation of the nuclear fuel cooling pumps in the fuel pools and nuclear reactors of the power units, all NPP diesel generators started operating automatically," the agency said.
There is 10 days' fuel stock left for their operation. "The countdown has begun," Energoatom said.
The plant, Europe's largest of its kind, is occupied by Russian troops and both Ukraine and Russia have accused each other of endangering the plant, risking a nuclear catastrophe.
Inspectors from the International Atomic Energy Agency are stationed at the plant. The IAEA has repeatedly called for hostilities around the plant to cease and for the facility to be demilitarized.
Energoatom said Russia's illegal occupation of the plant was bringing it constantly toward irreparable damage and called for it to be brought back under its control.
— Holly Ellyatt
Russia likely to be creating a new 'elite' attack aviation group, UK says
Russia is highly likely to be creating a new "elite" attack aviation group code-named "Shtorm" (which means "storm") to operate over Ukraine, the British Ministry of Defense said Monday.
The unit is likely to consist of at least one squadron of Su-24 and Su-34 fighter-bombers, and a squadron of attack helicopters, the ministry said in its latest intelligence update on Twitter.
"The mix of aircraft types suggests the group will have a primary role of ground attack missions," the ministry said, adding that credible Russian media reports suggest that the Russian defense ministry "aims to attract highly skilled and motivated pilots by offering large pay incentives and opening recruitment to retired aviators."
"The creation of the group highlights how Russian assesses its regular air force squadrons have severely underperformed in their core function of conducting airstrikes on Ukrainian lines," the U.K. said.
— Holly Ellyatt
Extensive Russian defenses revealed ahead of Ukrainian counteroffensive
A BBC investigation has revealed extensive Russian defenses and fortifications that have been prepared in occupied parts of the country ahead of Ukraine's much-awaited counteroffensive.
BBC Verify, a new unit within the British broadcaster charged with investigating and verifying information, video, and images, said it had examined hundreds of satellite images of Ukraine and had "identified some key points in the significant build-up of trenches and other fortifications in southern Ukraine since October."
The images showed a 15-mile section of Crimean coastline "littered with defence structures installed by Russian troops" as well as defensive lines of anti-tank trenches and dragon's teeth (pyramid-shaped concrete blocks designed to block military vehicles) near the potential area of Ukraine's counteroffensive, in southern Ukraine.
Investigative journalists and analysts at the BBC also found that a line of anti-tank ditches and trenches now runs alongside a major highway near the potential counteroffensive site and that the route is likely to be heavily mined; Ukraine has understandably not said where or when it will launch its counteroffensive. Read BBC Verify's article here.
The report echoes concerns voiced by British defense analysts last Friday when they said Russia's large-scale defense-building could prove a challenging obstacle for Ukraine to overcome, warning onlookers not to dismiss Russia's military as incompetent, as it had been labelled early on in the invasion after previous mistakes.
Read more here: Russia's military has adapted and is now a more formidable enemy for Ukraine, defense analysts say
— Holly Ellyatt
Russian mercenary boss downplays regular army's contribution in Bakhmut 'capture'
The head of the Wagner Group, Russia's main mercenary force fighting in eastern Ukraine, downplayed the contribution of regular Russian army units in the claimed capture of the town of Bakhmut in Donetsk, eastern Ukraine.
Yevgeny Prigozhin, head of the Wagner Group, claimed on Saturday that his mercenary fighters captured Bakhmut after nine months of intense fighting there reduced the town to rubble.
"Basically no one at all out of the military/army helped us in the taking of Artemovsk [Russia uses the Soviet-era name for Bakhmut], other than Surovikin and Mezentsov," Prigozhin said, referring to Russian Generals Sergei Surovikin and Mikhail Mizintsev, with whom he has good relationships.
Prigozhin has a strained relationship with Russia's Defense Ministry and has been a vocal critic of Russian Defense Minister Sergei Shoigu and Valery Gerasimov, the head of the armed forces. Prigozhin has regularly accused the defense ministry of trying to undermine his forces, saying his repeated calls for more ammunition had been ignored.
Russia's Defense Ministry said Saturday that its own aviation and artillery units had helped the Wagner Group to capture Bakhmut but gave most of the credit to the mercenary force.
Speaking in a voice message on Telegram, Prigozhin said "stories" about Russian airborne troops helping to capture the town were "complete and absolute lies."
"There are indeed courageous soldiers, amazing Russian guys that are completely hindered by the military ... higher ups."
"There was an enormous amount of people that just ruined things [for us]," he said, according to an NBC translation of the comments.
Kyiv denies that Bakhmut has been captured, saying it fights on there.
— Holly Ellyatt
Ukraine refuses to give up on Bakhmut after Russian mercenaries claim to have captured town
Ukraine is refusing to concede defeat in the largely ruined town of Bakhmut in Donetsk in the east of the country after Russian mercenary forces claimed they were now fully in control of the town after months of fighting.
Ukraine's President Volodymyr Zelenskyy said Sunday that "Russia did not occupy Bakhmut" as he attended a news conference at the Group of Seven summit in Japan, rebuffing claims by Russia's mercenary group leader Yevgeny Prigozhin that his forces had completely captured the town Saturday.
Elsewhere on Sunday, the head of Ukraine's ground forces Colonel-General Oleksandr Syrskyi said his forces still controlled parts of Bakhmut and that they were not ready to give up.
"Despite the fact that we now control a minor part of Bakhmut, the importance of its defense does not lose its relevance. This gives us the opportunity to enter the city in case of a change in the environment. And it will definitely happen," Syrskyi said on Telegram.
"We continue to advance on the flanks in the suburbs of Bakhmut and are actually approaching the capture of the city in a tactical encirclement."
Syrskyi said he had visited Ukrainian troops and commanders in Bakhmut on Sunday. "We continue the defense. The situation is difficult, but under control," he noted.
Prigozhin, the head of Russia's mercenary force the Wagner Group, commented on Saturday that "today we took Bakhmut ... We have fully taken the whole city. From house to house, so that no one could pedantically complain that a tiny fragment was left un-taken."
Prigozhin said the town, now largely reduced to rubble and of little strategic importance (but of more symbolic importance after nine months of intense fighting), would be handed over to the regular Russian army.
— Holly Ellyatt
Copyright CNBCs - CNBC