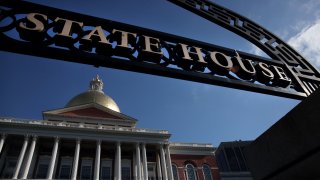 Massachusetts businesses harmed by the coronavirus outbreak — especially those in the restaurant and hospitality sectors — will be able to take advantage of an extension of tax relief measures.
The extension was announced Tuesday by Gov. Charlie Baker, a Republican, and Senate President Karen Spilka and House Speaker Robert DeLeo — both Democrats.
The change includes the extension of the deferral of regular sales tax, meals tax, and room occupancy taxes for small businesses due from March 2020 through April 2021. They will instead be due in May 2021.
Businesses that collected less than $150,000 in regular sales plus meals taxes in the 12 months ending February 29, 2020 will be eligible for relief for sales and meals taxes. Businesses that collected less than $150,000 in room occupancy taxes in the same 12-month period will be eligible for relief for room occupancy taxes.
Coronavirus Pandemic
Full coverage of the COVID-19 outbreak and how it impacts you
No penalties or interest will accrue during the extension.
For businesses with meals tax and room occupancy tax obligations that do not otherwise qualify for this relief, late-file and late-pay penalties will be waived during this period.
Copyright AP - Associated Press