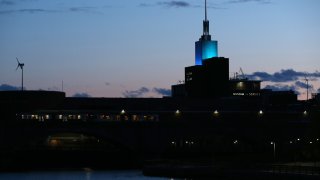 The Museum of Science, one of the most popular cultural institutions in Massachusetts, is cutting staff and reducing salaries in response to a steep dropoff in revenue during the coronavirus pandemic, the museum's president announced Tuesday.
The museum's board approved furloughs for 250 staff members and layoffs for another 122 workers, President Tim Ritchie said in an emailed statement.
Remaining staff making more than $75,000 annually will take salary reductions ranging from 5% to 25%. Ritchie will take a 50% pay cut. The museum will also suspend retirement plan contributions.
The museum, which gets about 1.4 million visitors per year, closed March 12 in response to the pandemic.
Since then, it has taken several steps to save money.
"These decisions, while difficult, were made only after considering all other viable options for sustaining the museum well into the future," Ritchie said.
Copyright AP - Associated Press