A 78-year-old man has been charged with operating under the influence for a fifth time after a crash that left a 72-year-old man dead this weekend in Quincy, Massachusetts.
James Bouchie of Quincy was crossing Quincy Avenue around 8:30 p.m. Saturday when a Kia Sportage hit his wheelchair, police said.
Bouchie was taken to South Shore Hospital, where he later died.
The driver, 78-year-old David Bowering of Quincy, was arrested at the scene. The Quincy Police Department said he was charged with his fifth offense of OUI, as well as motor vehicle homicide while under the influence of liquor.
Bowering was arraigned Monday morning at Quincy District Court. He is being held without bail pending the outcome of a dangerousness hearing scheduled for Friday.
Residents at a senior housing complex in Quincy were heartbroken to hear Bouchie was hit and killed by an alleged repeat drunk driver.
"He was a sweetheart. He never bothered anybody," said Carol Crisafulli.
Local
In-depth news coverage of the Greater Boston Area.
Bouchie was on the crosswalk in his wheelchair around 8:30 Saturday night at the intersection of Quincy Avenue and Southern Artery when he was hit, Quincy police said.
"I was really concerned about him because he went out at night. It was late at night, and sometimes he would zoom by with his electric chair," said Crisafulli.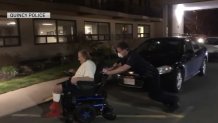 The police report says a witness saw Bowering "... go in reverse and ran over Bouchie again as he was laying on the ground." It also says "...Bowering got back into his car and attempted to drive off."
Police say Bouchie was thrown from his wheel chair and had severe head trauma.
They also say a witness prevented Bowering from taking off.
Quincy police have now sent a request to the Registry of Motor Vehicles to revoke Bowering's license, and residents are left wondering how he was still able to drive in the first place.
"What's wrong with that system?" neighbor Evelyn Cody asked.
NBC10 Boston has reached out to the RMV and is still waiting to hear back on the suspect's record.
It was not immediately clear if Bowering had an attorney. The crash remains under investigation.