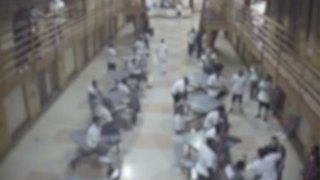 Over the weekend, Gov. Charlie Baker visited with the corrections officers hurt Friday in an attack at a prison in Shirley, Massachusetts.
The attack at the Souza-Baranowski Correctional Center, which began when an officer was surrounded and assaulted by inmates in a general population housing unit, left that officer hospitalized along with two others who intervened.
Baker spoke with the officers, who "were badly injured," and their families during his visit, the governor said in a tweet Sunday.
Two of the three injured officers remained in the hospital Monday, and their union says they will need to undergo surgery.
The Massachusetts Correction Officers Federated Union is fighting to make sure something like this never happens again — it's met with the Department of Correction Monday to try and come up with a solution to make prisons safer for its guards.
"Just like the men and women at Souza-Baranowski, it angers me," said Massachusetts Correction Officers Federated Union Legislative Representative Kevin Flanagan.
The attack prompted a lockdown at the prison and was described by Department of Correction officials as a "serious assault." Six inmates were removed from the housing unit in the aftermath.
Just in the past year, the union says, it has seen upwards of a 150% increase in the number of group assaults on officers.
"It seems we've gone away from the one-on-one fights to more of a coordinated group assault," Flanagan said, adding that the numbers aren't in the officers' favor at Souza-Baranowski.
"There's two officers in a unit with anywhere up to 50 inmates out at one time, that's dangerous," said Flanagan.
More Recent Incidents at Souza-Baranowski Correctional Center
As the union calls on the legislature to fix the Criminal Justice Act to better protect officers, Francis Olive, III, a former correction officer and current assistant professor of criminal justice at Worcester State University, agrees lawmakers need to focus not only on the inmates' rights but on the officers' rights to a safe workplace.
"It needs to be balanced, so it can't be locked down all day, or everybody's out all day, there has to be some sort of happy medium," Olive said.
Souza-Baranowski Correctional Center is a maximum-security prison with about 1,000 inmates. It is the newest state correctional facility in Massachusetts, having opened in 1998.