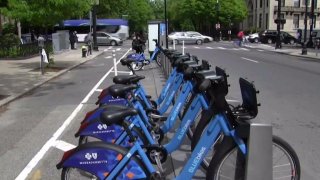 Grab your helmet and get ready to ride, because Boston is the fifth friendliest city in the country for bikers, according to rankings released by Rent. last week.
What makes a city bike friendly? Things like designated bike paths and lanes, bike shops, and safety infrastructure all play a role.
The website took a look at factors including number of bike rental businesses, bike trails, bike shops and a city's mean bike score from Redfin to assign each city a bike score. Factors were scaled and scored per capita for a fair comparison.
The report cites the city's compact neighborhoods and flat streets, many with designated bike lanes, as some of the reason for the score. We also boast parks and recreation areas like the Charles River Reservation that are ideal for bikers. The city also has nearly 40 bike shops and 53 rental spots for a fledging cycler.
Boston's Bike Score came in at 77, but the website noted that the city has big plans that could improve cycling accessibility fourfold by 2030.
The city's plans center around the idea of more equitable travel options for all. To read more about those plans and to see city bike count data, click here.
Boston was beat out by Portland, Oregon, at number four, Minneapolis, Minnesota, at three, Chicago, Illinois at two and San Francisco, California at the top.
Local
In-depth news coverage of the Greater Boston Area.
See a full list of rankings on Rent.com.