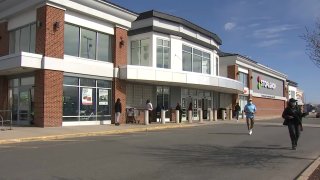 A Boston police officer was taken to the hospital after being attacked by a suspect at the South Bay Stop & Shop in the city's Dorchester neighborhood Saturday, according to Boston police.
Police said officers were first called just after 9:45 a.m. for reports of a shoplifter. When the first officer approached the suspect, 26-year-old Patrick Craddock, Craddock became violent. During the struggle Craddock wrestled the officer to the ground and strangled the officer, police said.
The officer was eventually able to radio for help and Craddock was taken into custody.
The officer was taken to the hospital with non-life-threatening injuries.
Craddock was arrested and charged with assault and battery on an officer, assault and battery strangulation, assault and battery and shoplifting. He was ordered held without bail after his arraignment at the South Boston Division of Boston Municipal Court on Monday.
Prosecutors said Craddock is also a fugitive from justice in New Hampshire and that authorities intend to move for extradition.