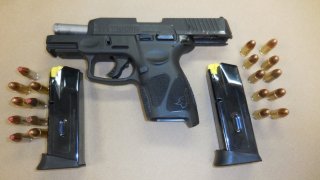 Boston police say they recovered a loaded 9mm handgun from a playground in the city's Dorchester neighborhood on Monday afternoon.
Officers received a call at 2:46 p.m. Monday to recover a gun at Walker Playground at 515 Norfolk St. in Dorchester, according to a press release. When they arrived, they found a loaded 9mm Taurus GC3 handgun, along with an additional loaded magazine.
Both the gun and the magazine were turned over to the Boston police Firearms Analysis Unit for processing. The owner of the gun has not been identified.
"This recovery was made possible as a direct result of a concerned individual who contacted us after observing the unattended firearm possibly averting an accident or an act of violence within the community," Boston police said in a statement.
The investigation remains active and ongoing. No further details were released.