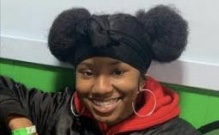 Boston police say they have safely located a 13-year-old girl, who had last been seen Thursday, July 2.
Police issued a missing person alert for Xeray Scantlebury on Saturday morning, saying the teen was last seen in the area of 78 Armandine St. in Dorchester.
Though the teen had not been seen since July 2, Boston police said Scantlebury had been in contact with her family up until July 24, at which point her last known location was in the Roslindale area.
No other information was immediately provided.