Commuter rail passengers are slated to make history with the most passenger capacity the network has ever operated in wake of the New England Patriots' Super Bowl championship parade.
More than 1 million fans are expected to flock to Downtown Boston on Tuesday for the celebration, causing the highest ridership ever for the MBTA Commuter Rail.
Keolis, the company that runs the commuter rail service, said in a statement Tuesday they have seen an extraordinary level of ridership and said they are seeing more than double the usual weekday. Tuesday's service will provide additional capacity for about 26,000 people, Keolis said.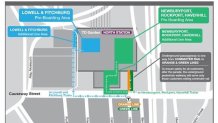 To accommodate the surge in passengers, additional coach cars were added to several trains and 16 extra trains were added to the normal schedule. Increased capacity is expected to continue through the afternoon after the parade ends.
Keolis recommends passengers returning home from the parade take a train after 4 p.m., once the chaos and surge in commuters dies down. Lines at North Station are anticipated to extend outside of the station.
The Fitchburg Train inbound between West Concord and North Station was operating 45 to 55 minutes behind schedule due to heavy parade ridership and from Wachusett, it was 30 to 40 minutes behind between Ayer and North Station. As for the Fitchburg Train from Wachusett between Fitchburg and North Station, the delay was between 15 to 25 minutes.
Local
In-depth news coverage of the Greater Boston Area.
Bring on the Duck Boats! Patriots Fans Line the Streets of Boston for Parade